The new Logitech Brio 4K Pro webcam, in addition to having Ultra HD resolution, still has HDR, to generate images with an absurd quality. It also has auto focus, up to 90 ° viewing angle and two microphones to make noise cancellation. With HDR and RightLight 3 technology, low light or high contrast conditions will no longer be a problem. The Brio 4K Pro also has a 5x digital zoom, something useful for picking up details from conferences held in very large meeting rooms.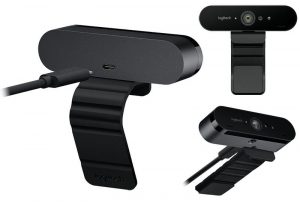 It also has infrared detection and is compatible with Windows Hello to increase the security of your computer. Check out a video of the product below:-
The background of your image can be blurred and even changed, if necessary. Brio 4K Pro records in Ultra HD resolution at up to 30 frames per second or Full HD (30 or 60 fps). To write to 4K, you will need a USB 3.0 port on your computer.
The price is $ 199 (out there), learn more about Brio 4K Pro at Logitech.