In 1990, the world was introduced to the first electric skateboard. Adding a motor to a long board seemed relatively straightforward, but it made the headlines. Some thought the technological development was a vein attempt at making one of America's most popular past-times gimmicky. Others celebrated it as bringing skateboards into the age of technology.
If you buy the best electric skateboard, you can expect to get more or less the following features: A mileage of up to 10-20 miles on a single charge, a top speed of up to 20 mph and the ability to climb hills that are up to 25% gradient. You might be thinking that all of this comes with a heavy battery that is at the expense of design. The good news is that most electric boards look virtually identical to traditional long boards; the cool factor is definitely retained. Boards like Boosted come with beautiful, artisan bamboo deck that makes it the envy of any skaters. Electric skateboards are operated by a combination of a handheld throttle and distributing weight from one side of the board to the other.
However, if you're buying an electric skateboard, there are some issues to bear in mind.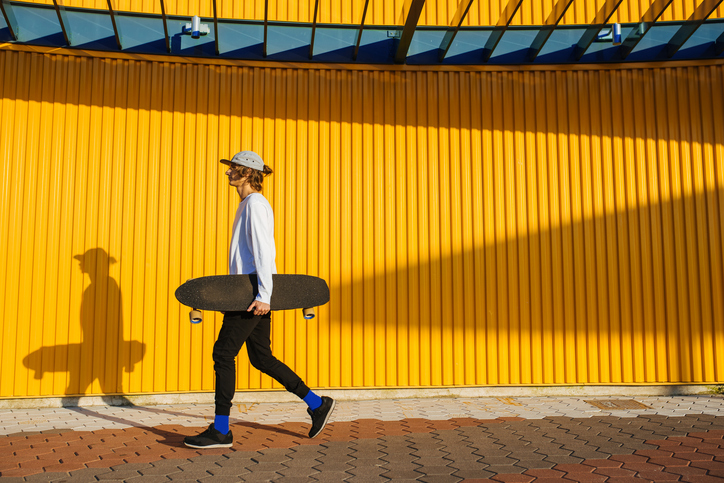 First off you don't want to get a board that's too heavy. While heavier boards tend to be more stable and therefore ideal for novice riders, they're cumbersome to carry around.
The second consideration is the quality of the construction. When electric skateboards started to become more popular, there were a lot of companies that rushed to market. Some of the products were ill thought out and made from cheap plastic, which gives away after a few rides. In 2017, the CPSC even recalled some models for being a fire hazard. You want something that can withstand as many knocks and bumps as a conventional board. You'll be riding your electric skateboard a lot faster so all the parts need to be as good as new to keep you safe. Also ensure that the parts can be easily changed. Electric skateboards can cost upwards of $1,000 and you don't want to have to fork out for a whole new unit.
Thirdly, get your battery power right. Think about what kind of distances you ride on average. There's nothing worse than cruising to the other side of town only to realize that you've run out of juice half way. The weight of the rider will also impact how long the board can go. If you can ride the board on full power for around 1 hour, you're on to a winner.
Then there's the noise factor. Since electric boards are motor operated, they are noisier than any other board. If you're using your electric skateboard for commuting or riding in quiet neighborhoods, you'll want to ensure that it's community friendly.
Finally, always check the warranty. You're buying an expensive tech product that should have adequate customer service to help you if something goes wrong. Visit TheGadgetNerds.com for more information.
Finally, as with any skateboarding, take the necessary precautions. Make sure that you have a hardwearing helmet and protective gear on at all times. Stay clear of roads with fast cars and heed traffic warnings. Other than that, you can take your electric skateboard with you where ever you want from the quaint country roads to beachfronts and skate parks. You're bound to have the ride of your life.