Terms of Spelling and Grammatical mistakes? No one is even Perfect. Most of the guys are still struggling to write a better piece of content and even want to improve their grammatical skills. The Tool Grammarly has been launched for this Purposes only. Recently, Grammarly Brings it AI-Powered Proofreading tools to the Google Docs. Meanwhile, If You are a writer and saving all of your works into the sheet of google. Then, This update will be perfect for you.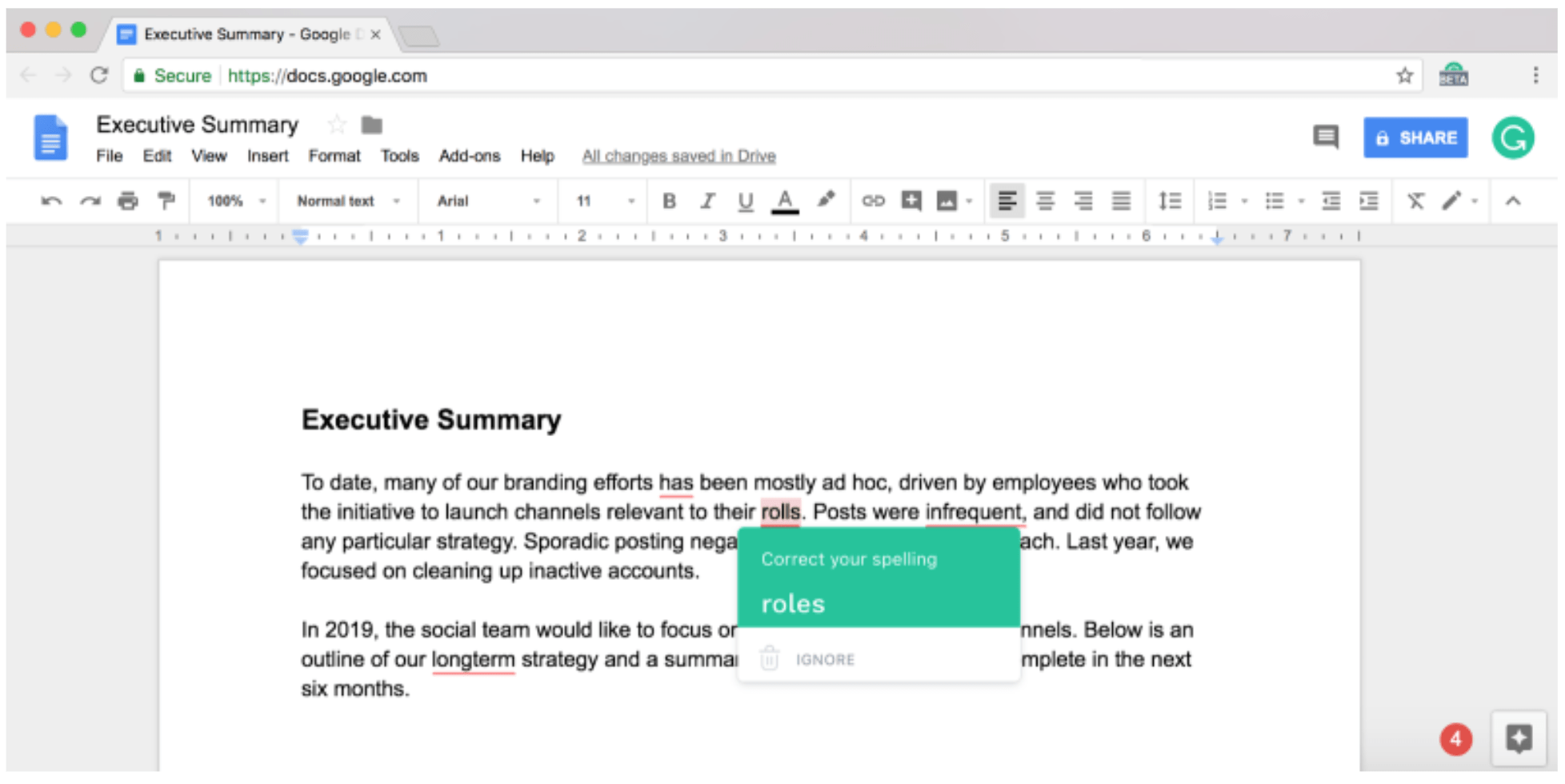 Grammarly:
If we talk about the Grammarly, Then Grammarly is Proofreading and Grammar correction tool. Which is specially launched for helping the struggling writers to write unique and grammatical errors free piece of content. That's sound good. Grammarly comes with 2 Options one is Free and another one is Premium. While the Free version of Grammarly comes with the limited number of options. Like: You can only able to correct the grammatical errors in your article and if You chose the Premium version over the Free then You will be able to access all the Premium Features that You are looking for. If You want to buy the Grammarly Premium then You can check Grammarly discount from here.
Proofreading Tools For Google Docs:
Grammarly is one of the most powerful proofreadings tools. Grammarly not only help you to correct your grammatical errors in the article, It will help you to proofread of your article too. Recently, Alex Shevchenko, Max Lytvyn, Dmytro Lider — three software developers based in Kiev, Ukraine — set out to build a cloud-based, algorithmic English-language checker that could proofread just about any document and they decided to launch the Proofreading tool for the google docs users.
If You are a chrome user, Then Just You need to do is install Grammarly chrome extension. Then When you open the google docs it will show the beta sign on the icon. As currently, The proofreading system is in the beta state still, Its working fine for most of the users.
That feature was requested by many of the users and this statement has been mentioned by Lytvyn in the Interview. even they also stated if the google updates its version then the tool will be not affected. That's sounds good.
Grammarly Check the Grammatical Errors, Sentence Rewriting and the Plagiarism checker very accurately. The Plagiarism checker of Grammarly will check your content over 16 Million Web pages and ensures you that the content you have written is not copyrighted.
The Verdict:
Writing an article or information about any Topic is an essential part of our lifestyle. If We go in the interview for any job then the first skill he would test is our writing skills that how well we can write and thus, Grammarly is here for that. Grammarly, not only helps You to write a unique content but also helps you to correct the grammatical mistakes that you've been made in the article. You can check out the Grammarly Review and decide if this is suitable for you.