Emails, the most thriving of all the forms of marketing in B2B business, still rule the chair of marketing regardless of technological advancements.
Email is still the most preferred choice of most businesses according to statistics. More than 95% of consumers check their emails every day and more than 306.4 billion emails are sent every day out of which 109 billion emails are business-oriented.
Email marketing is one of the best B2B sales strategies that can help you reach out to your potential customers, connect with them better and convince them to choose your brand over others.
With such stiff competition going on in the inbox, it becomes imperative to craft an email that gets noticed and opened. In short, your email marketing needs to be spot on.
So, now the question comes, how should you create a successful email marketing campaign to woo your business clients? Let's go through a few points and understand how one can make the best use of emails to increase overall B2B sales.
1. Quantify your goals
Being in B2B business, you should be clear of what you want to achieve over a certain period. You should figure out your real goals and set objectives for your email marketing campaign.
Setting targets is the best way to achieve business goals and increase marketing effectiveness.
2. Have a clear picture of the target client
Before getting on with your marketing strategy, it is essential to have a clear picture of the clients you are targeting. Simply put, you must understand their purpose behind buying your product.
3. Know your database properly
The database does not mean just a bunch of email IDs in your Excel Sheet. It is a list of potential customers, their names, preferences, requirements, and much more.
Segmentation of the subscribers is important to target the right audience. Segment them according to parameters such as age, demographics, geographic location, and purchase history.
It can help you deliver targeted, personalized, and relevant email marketing content. You can also do so by segmenting your customers through criteria such as interest by service or product, site engagement, sales funnel position, etc.
Most of the ESPs and CRM tools come with this functionality to make things easier for you.
4. Craft impeccable subject lines
Personalized subject lines always play the game on point by getting your email noticed in the inbox as it is the first thing that catches the client's eyeballs. So, when you send an email, pay special attention to the subject line. Remember, 99% of consumers check their email everyday. So, make sure you give your best when sending out emails.
People are more focused on subject lines when it comes to opening or reading emails, and so, one needs a  convincing and eye-catching subject line.
For instance: See how Smart Insights sends out emails with interesting subject lines that instantly let the readers know what they can expect in the email.

5. keep your email interactive
You should not make your email complicated to make it interactive. You can use attractive images, GIFs, cinemagraphs, videos, or click-based animations to make an email interactive. Here's an example from "Mutuals of Omaha" which makes good use of GIF in its holiday email. Such emails not only create a visual appeal but also increase the likelihood of driving sales.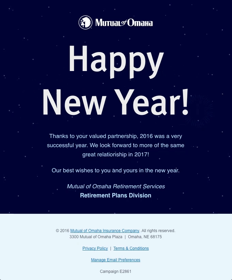 6. Optimize your landing page
Once the email is opened by your prospects or customers, all you need is to direct them towards the landing page via your CTA and once they land on the page, this could be your last and best chance to convert them. This makes optimizing your landing page all the more important.
See, how MOO has optimized its email and  landing page seamlessly.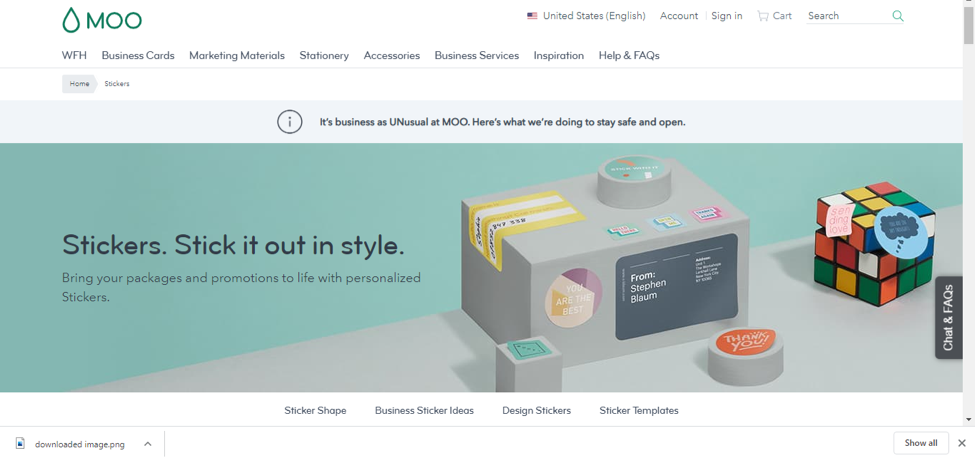 In short, it should be made sure that the landing page is in sync with the email and elaborates on the message conveyed in it. To build and maintain trust with readers, it is advisable that you should always use the same color scheme and tone.
7. Maintain email consistency
Emails should be sent on a regular basis to the list in order to build and nurture a list of loyal subscribers. This will also strengthen your relationship with them and brand recall.
According to a report, 37% respondents revealed that B2B companies should send 2 to 3 email copies per month. You can also consider the strategy of your competitors but make sure to have your own frequency as per your need and what you want to achieve.
8. Go for short and clear email copies
Emails should always have concise and to-the-point messages so that the consumers understand the purpose of the email and act on it.
Long emails should be avoided for the simple fact that they don't fit in the mobile screen and need too many scrolls. Only a few characters should be used to make sure that every consumer can read the mail.
See how Asana has kept its welcome email short and simple.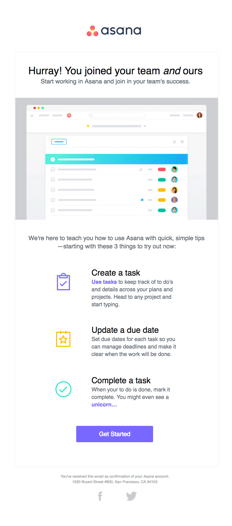 9. Make use of mobile-friendly emails
Mobile-friendly email template layout makes your email look great on devices of all sizes. If your email isn't mobile-friendly, then you might fail in engaging your subscribers and increase sales. After all, 41% of emails are opened on smartphones or tablets. As email is preferred by most customers to communicate with businesses,your campaigns must work perfectly on popular email clients like Gmail and iOS Mail. In case your email is not readable when opened on a mobile phone or tablet, then you might just lose the "moment".
Test your emails on tools such as Litmus and Email on Acid to check how the email renders on different devices and email clients.
10. Track your email performance
The effectiveness of your email needs to be measured if you wish to keep a track of increase in your sales. You should monitor your open rate, click-through rate, unsubscribes, and bounce rate to determine how effective your email marketing campaign is.
Conclusion
Generally, B2B companies have a longer sales cycle and in order to reduce this window, email marketing can prove to be of great help. It will not only scale up your email marketing performance but also increase the likelihood of sales by delivering quality content.
These tips will certainly come handy to you if you want your business to grow and get loyal customers.