Is your business based on tourism? So it's time to find a reputable travel software development company. Any modern business needs automation. This not only helps to increase conversions. You will also reduce labor costs and save on staff costs. Modern travel software solutions combine high technology, comfort and reliability.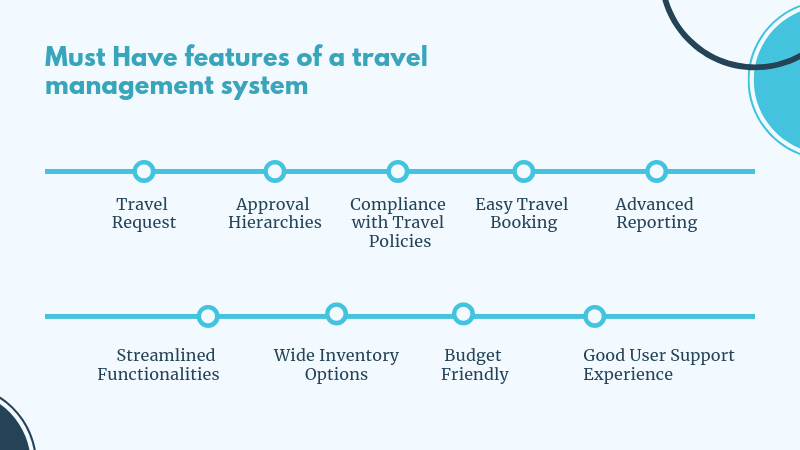 Key features in a travel management system
Travel software development is the process of integrating logistics, management and the fintech sector. More and more travel operators want to connect the direct booking function with instant payment by credit card or other methods. The management of a travel software development company must understand that the final product must be a multifunctional platform. The minimum set of features includes:
Individual selection of tours or hotel rooms for private and corporate clients;
Ability to book travel and track order status;
Availability of options for reporting orders for hotel management and for customers. For example, for the purpose of calculating travel expenses.
Modern functions for the safe and efficient management of a tourism company are divided into several groups. We will cover the main useful elements of software.
1. Customizable travel policies
In travel agencies managers work with clients. They book air and bus tickets, as well as rooms in hotels and hostels. But customers should also be able to see the options available. This means that the head of the company will need at least two interface options. The simplified version will allow the client to choose a tour. The full version is for the manager. All functions must be there, including making a payment or canceling a booking. It is very important to be able to filter information. Important criteria for customization:
Special rules for certain groups of people (for senior executives or important statesmen who often cannot book tickets in advance);
General rules of payment and check-in at hotels;
Variety of prices for hotels depending on the country and city;
The cost of domestic and international flights;
The maximum cost of travel on specific routes;
The minimum number of days for which the tour can be booked.
2. Customizable approval workflows
Sometimes users want rides that are outside the scope of your service. Usually, managers do not want to lose money, so they approve the tour on individual terms. It is important that the client does not spend a lot of time on approval. The interface should provide for the function of automatic saving of tour criteria. There should also be a button to send for approval, without the need to write an email to technical support or call the company.
3. No forwarding
Any redirect will repel clients. Payment, insurance and third-party intermediaries raise suspicions and the desire to look for another company that will complete the process without the help of a third party.
4. Accounting Confirmation of Travel Expenses
If a visitor is able to book a tour, give him access to a printout of invoices for payment. This means that in addition to generating reports, your trip management system must include the ability to add tags and tags to trips.
Travel Software
Travel software development solutions amaze with their diversity. IT companies will offer options for any purpose. Travel agencies, travel and bus operators, cruise lines and hotel chains can all turn to a full range of IT services in the hospitality industry. Before submitting a task to the development team, make sure that they have the appropriate qualifications. For the final product to meet all the requirements, you need AWS-certified developer engineers. They need to work with APIs and be sure to connect your site to Booking.com. Modern IT solutions will help:
Improve the loyalty program;
Optimize pricing policy;
Simplify product management.