Lead-In Part
Circuit Diagrams play a huge role in understanding the schematics of any electrical circuit system. In an electrical circuit network diagram, a circuit diagram illustrates all the relative positions of different components that ensure that the electric current flows from one point to the other. A generic circuit diagram consists of multiple electrical elements, like an electric cell, a wire joint, a voltmeter, an ammeter, a galvanometer, an electric bulb, a diode, OR/NOR/XOR gate, AC/DC voltage source, a battery, and more.
With the help of a circuit diagram, a network engineer can understand the position and significance of every electrical circuit element. Additionally, an engineering student can also benefit from circuit diagrams, as:
It helps visualize the physical location of each part, and all the parts are interconnected.
It helps understand how the signal flow moves through different devices.
It further shows a cross-reference between several part designs shown on the schematic and the actual part number of the part.
As you can see from the significance of circuit diagrams, it would become problematic for the students or network engineers to create such schematic diagrams without circuit diagram software like EdrawMax. A user-friendly circuit diagram software helps network engineers by:
Providing them access to all the circuit diagram symbols
Providing them with the option to connect multiple components easily
Providing them with circuit diagram templates that help designing complex schematics.
Frequently Used Circuit Symbols
Like any important schematic diagram, circuit diagrams have a magnitude of symbols that system or network engineers can use while creating circuit diagrams. Even though there are hundreds of circuit symbols, the electrical symbols are most commonly used to illustrate a schematic network. Some of the highly used electrical symbols are:
Amplifier: Denoted by a triangle; depicts the increase in the output signal in a circuit.
Capacitor: Denoted by parallel lines; depicts how the energy is stored in any given system
Resistors: Denoted by zigzag lines, depicts how current flow reduces in a circuit system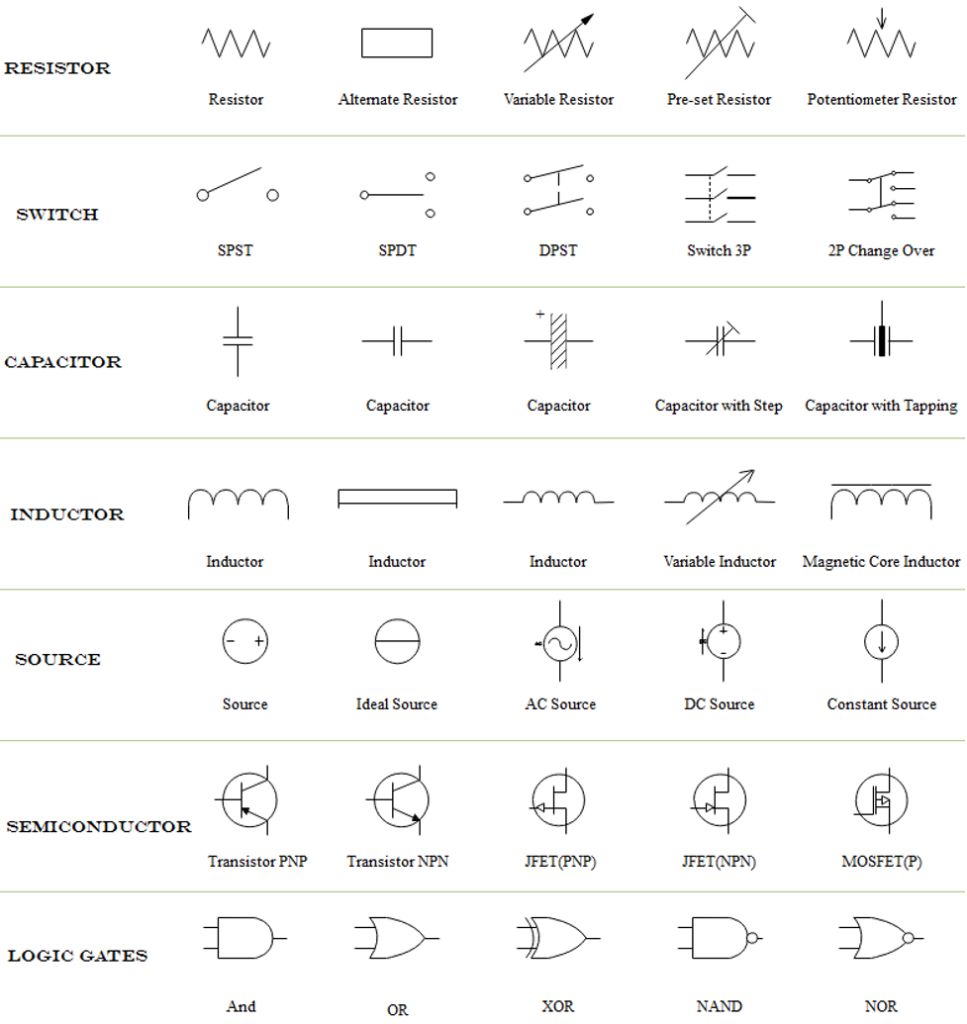 Apart from electrical symbols, wires also play a huge role when we create a circuit diagram. As the name suggests, wires are the ones that allow current to pass from Points A to B. Some of the most common wire types are:
Wires: Denoted by a single line; depicts how the current flows from one component to another
Joined Wires: Denoted by joined lines; depicts how multiple wires are connected in a circuit system
Terminal: Denoted by lines with a circle on one end; depicts the start or end point of any circuit.
In addition to this, there are several other important circuit symbols that you can find in circuit diagram software, like:
Switches
Routers
Battery
Cell
Diodes
Audio Devices;
And more
How to Make a Circuit Diagram Effortlessly
Most students and system engineers create circuit diagrams using traditional methods, but by doing that, they tend to make some common mistakes. In order to create a circuit diagram effortlessly, ensure that you are:
Not making a messy circuit diagram
Not following traditional routes as it would be time-consuming and won't look professional
Not following the correct guidelines to follow symbols
Not starting with proper planning and understanding of the end-result
Not learning about positive and negative connections
Now that you know the common mistakes, you can start making a circuit diagram using EdrawMax. With this free circuit diagram software, you do not have to worry about circuit diagram symbols or templates. The tool is enriched with all the resources you will need to draw a circuit diagram.
Launch: The first step a system engineer needs to do is to download this circuit diagram software in the system. Once installed, one can register using multiple sign-up options or login (if registered before). In the all-in-one diagramming tool, you will see that there are 280+ diagram categories from which you can choose to draw your required diagram.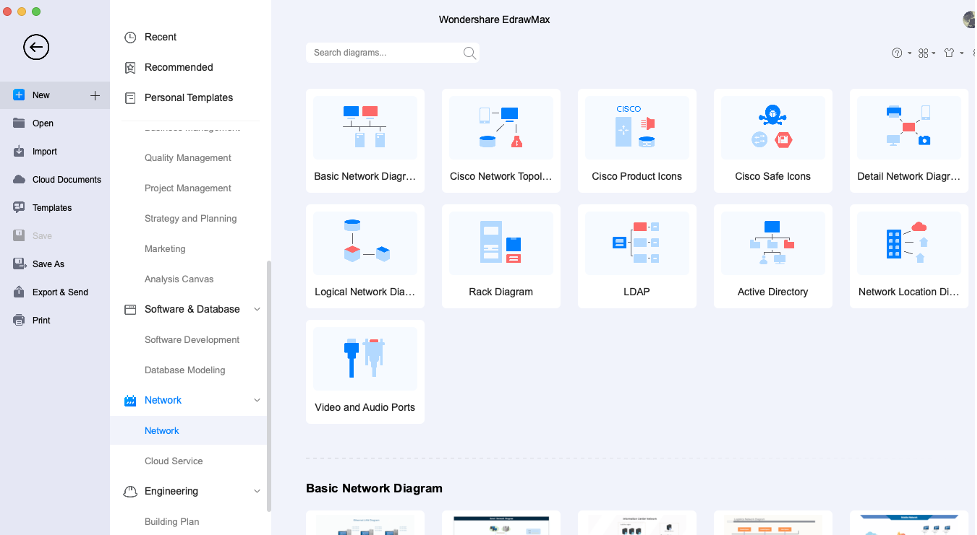 Head to the 'Network' diagram time that comes under the 'Network' diagram category. Here you will see multiple network diagram-type examples, like Active Directory, Logical Network Diagram, Detail Network Diagram, and more. Click 'Basic Network Diagram' or 'Detail Network Diagram' and select from the built-in template to get yourself started with circuit diagrams.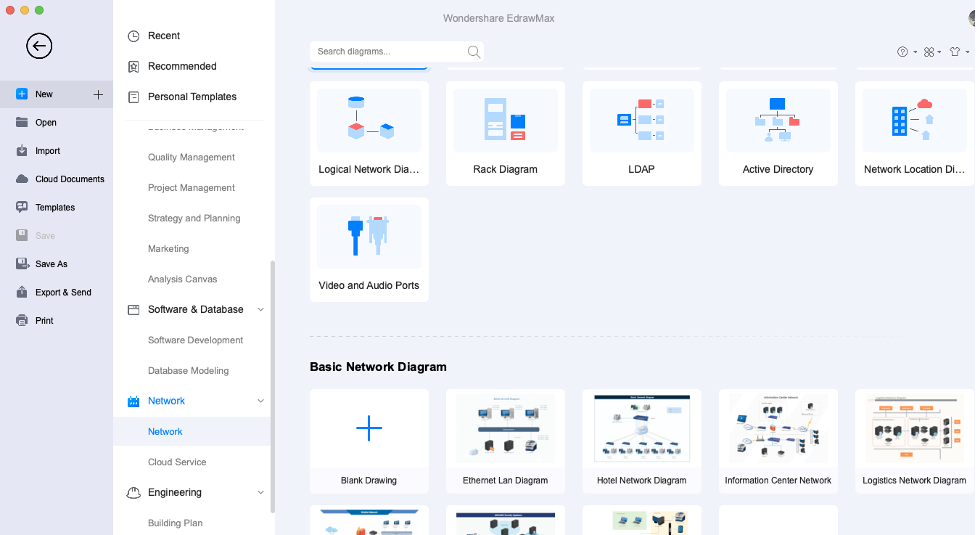 Template Access: This free circuit diagram software offers 1400+ templates that help create different diagrams. Head to the 'Templates' section to access the user-generated templates and look for 'Circuit Diagram.' The 2D diagramming software will present circuit diagram templates, like Electrical Circuit Diagrams, Ammeter Circuit diagrams, Standard Circuit diagrams, Wires Circuit diagrams, Doorbell Circuit diagrams, and more.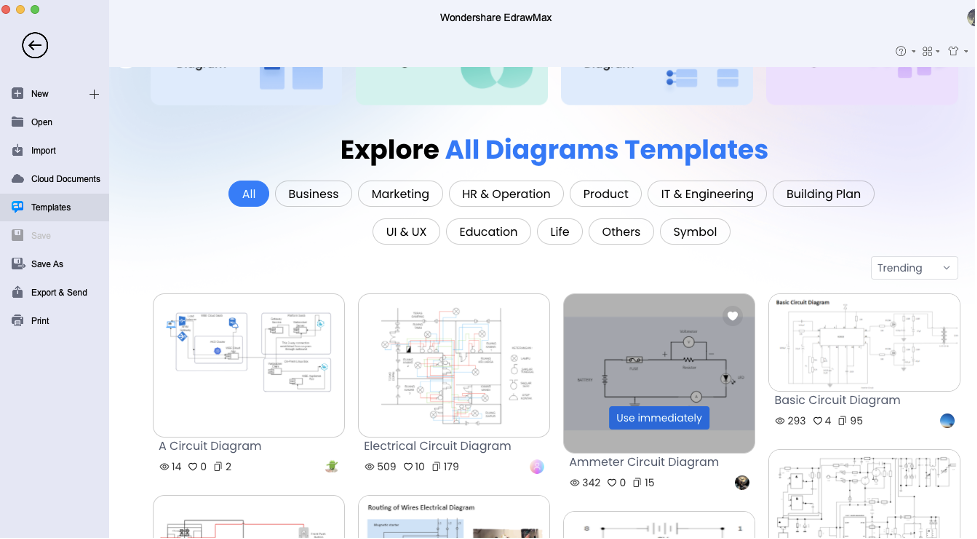 Click on any of these circuit diagram templates, followed by clicking on 'Use Immediately' to access the contents of the templates. Additionally, you can check out 'Cloud Documents' to access some of the previously stored circuit diagram templates or designs.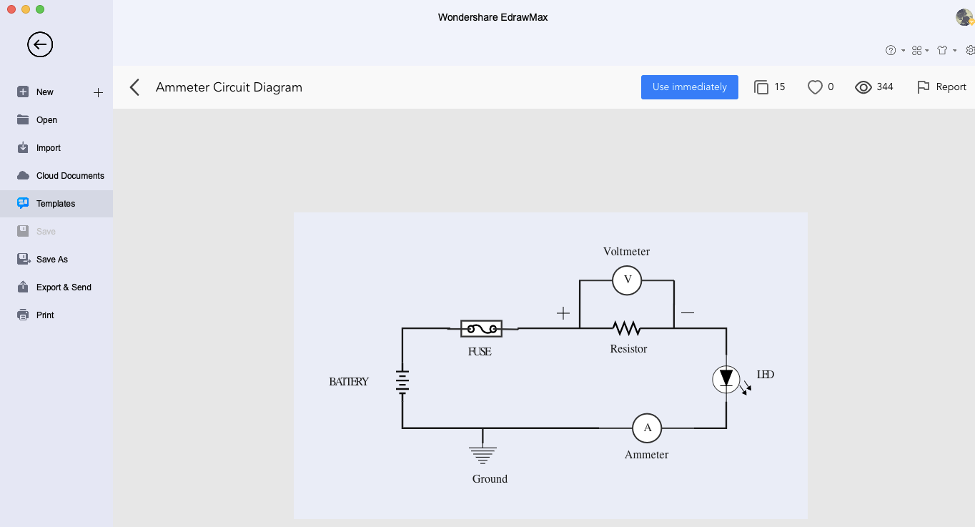 Build from Scratch: If you have done your note-taking method in detail and have all the details necessary to create a circuit diagram effortlessly, you can start building it from scratch. Head to the 'Network' diagram time that comes under the 'Network' diagram category. Click on '+' to access the Blank Drawing board of this circuit diagramming software. The system will take you to the drawing canvas, where you will see circuit diagram symbols on the left, designing options on the right, coloring options at the bottom, and a multi-feature toolbar on the top. From your data, you can start by drawing the electrical circuit diagram.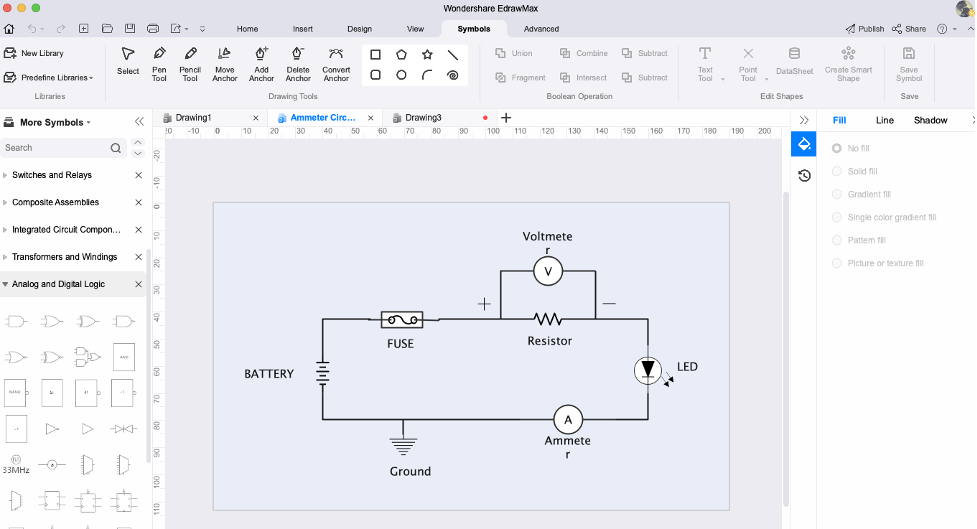 Add Components: In the basic layout of your circuit diagram, you can now start adding the important components, like Computers & Monitors, Servers, Networks & Peripherals, and more.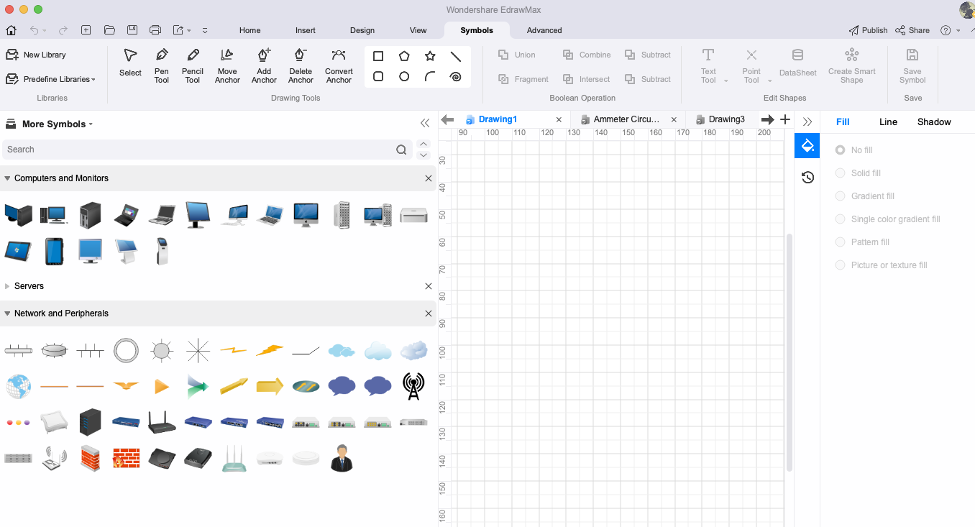 Head to the top toolbar and click on 'Symbols,' followed by 'Predefined Libraries,' and select different circuit symbols, like Network Symbols, Network Locations, Peripheral Equipment, Rack Equipment, Cisco Network, CCTV Equipment, and more.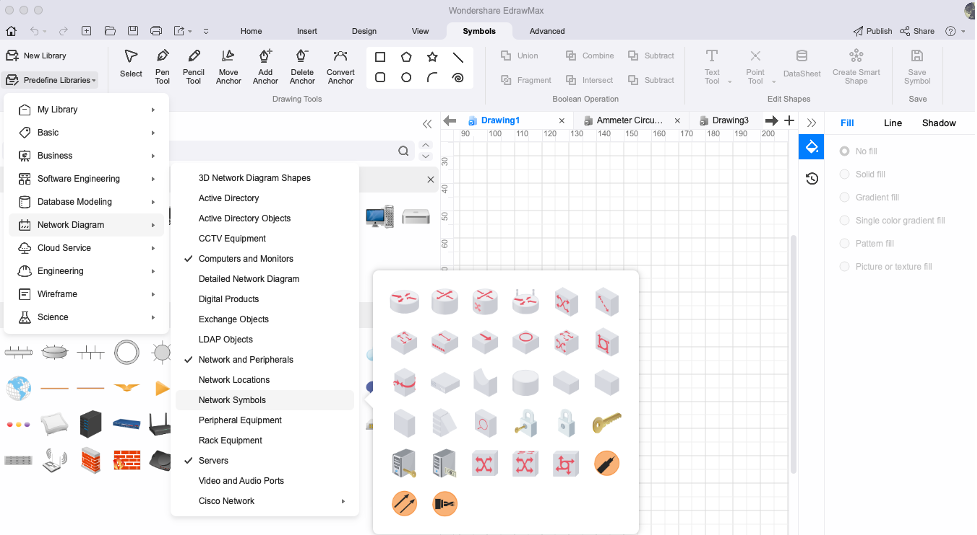 Once the required symbols are imported to your library, you can start placing them as and where it is required. You can easily connect two components with the tool's in-built connector option.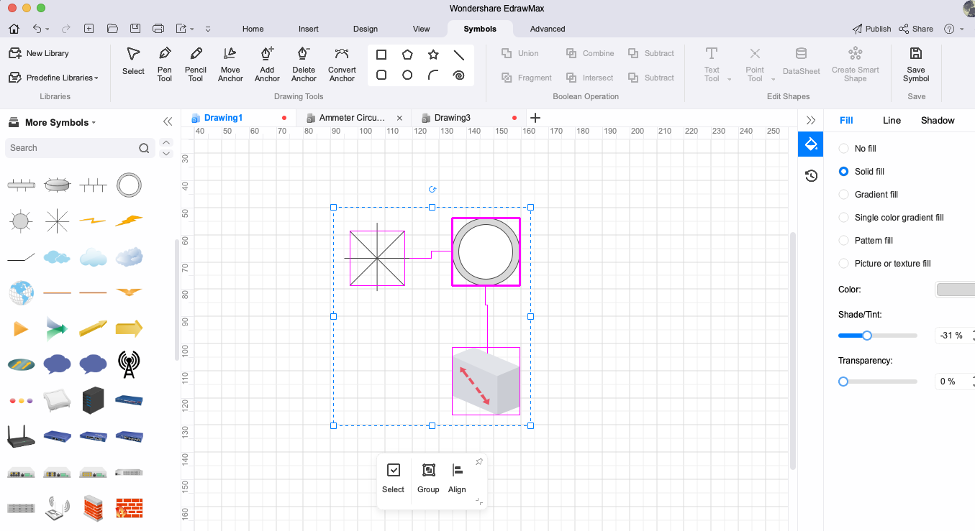 Export & Share: After completing the circuit diagram design, you can export it into several necessary formats. If you plan to attach it to your file, you can export it into JPEG, PNG, SVG, Docs, PPTX, and more.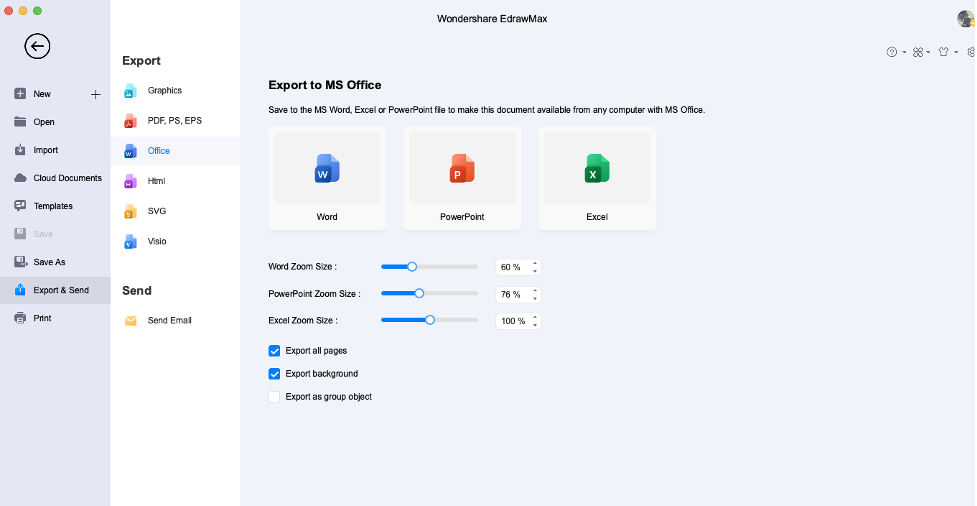 You can further export it into PDF or HTML formats. The system lets you share your circuit diagram with others on social media platforms like Facebook and Pinterest. As a registered user, you can further publish your circuit diagram to the template community, from where you can inspire other network engineers.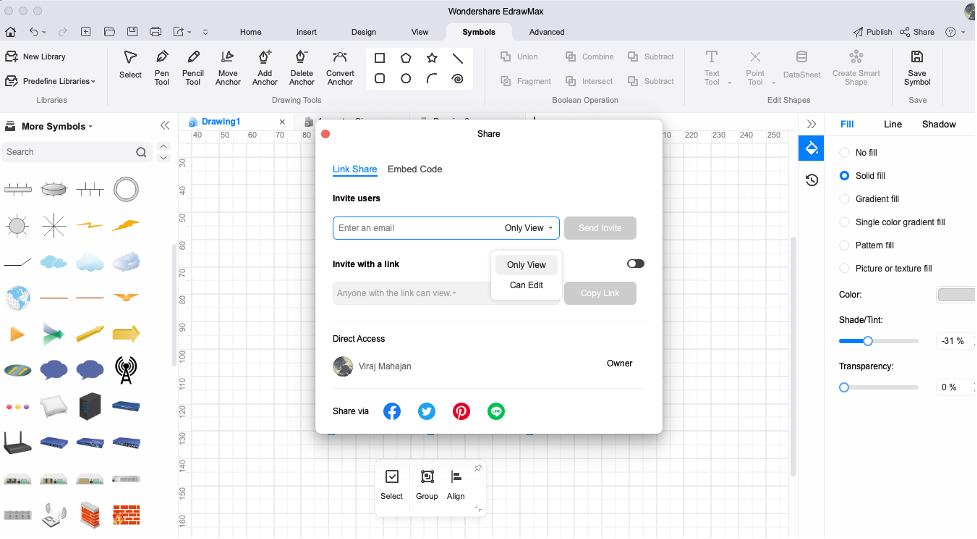 Final Thoughts
The circuit diagram is a crucial diagramming representation of the electrical circuit components using electrical symbols and other schematic elements. As you saw in this detailed guide on how to draw a circuit diagram easily, you must have learned how in an electrical circuit diagram, we show the components and interconnections of the circuit using the universally accepted symbols. In order to create technically correct circuit diagrams effortlessly, we recommend checking EdrawMax. This all-in-one diagramming tool offers free templates and circuit symbols that reduce diagramming time. Additionally, this free circuit diagram software is built on vectors, allowing you to create endless diagrams on a single canvas sheet. Check out this free circuit diagram tool and draw circuit diagrams easier.