When it comes to online document collaboration tools, you might think first of Google Docs, then Microsoft Office Online. If so, there is no big surprise. These solutions have been on the market for years, and now millions of people use them to co-edit documents in real time. Nevertheless, what is popular is not always the best.
Fortunately, gone are the days when we had no choice. There are a lot of other online office suites today, and ONLYOFFICE Docs is definitely one of them. If you are interested whether this open-source alternative to Google Docs and Microsoft Office online is a good option for you, then this review should help you make up your mind.
Features of ONLYOFFICE Docs that We Like
ONLYOFFICE Docs is a web-based office package developed by Ascensio System SIA, a Latvia-based software development company. This software tool allows you to create, edit, share and collaborate on text documents, spreadsheets, presentations and fillable forms in your web browser. Unlike Google Docs and Microsoft Office Online, ONLYOFFICE Docs is an open-source and self-hosted office suite, which makes it very secure by design.
Both free and Commercial Versions of ONLYOFFICE Docs Include the Following Features:
i. Text editor has a full set of editing tools to create documents for any purpose, from business reports to academic papers.
ii. Spreadsheet editor makes it possible to make online calculations due to the support of more than 400 formulas and easily analyse data with the help of pivot tables and conditional formatting.
iii. Presentation editor allows you to create visually appealing slides with autoshapes, charts, tables and transitions effects.
iv. Form creator lets you create documents with fillable fields where other people can insert text, add images, choose an option in drop-down lists, check radio buttons to make their choice, etc.
v. Online co-editing functionality is not limited to Track changes, Version history, comments and user mentions; it also comes with two co-editing modes, Fast to see all edits in real time and Strict to display changes only after you click the Save button.
vi. Various access permissions are designed to make sure that only the required people can perform certain operations — open a document for viewing, make edits without limitations, suggest changes as a reviewer, leave comments or fill out fields when it comes to online forms.
vii. Enhanced security is what makes ONLYOFFICE reliable — self-hosted deployment allows you not to share your data with the provider, JSON Web Token prevents unauthorised access to your documents and the HTTPS securely protocol encrypts your traffic.
viii. Third-party plugins turn ONLYOFFICE Docs into something more powerful than a traditional office suite — you can make audio and video calls with Jitsi, chat with friends and colleagues using Telegram, translate words and phrases with Google Translate or Deepl, create bibliographies with Mendeley or Zotero and even edit images right in the editor.
Pros and Cons of ONLYOFFICE Docs
As you can see, there is a lot ONLYOFFICE has to offer, even for its free version. Here are the things we really like about it:
i. Ribbon-based intuitive interface with tabbed toolbars makes it easier to get familiar with basic editing features, especially if you have ever worked with the latest versions of Microsoft Word.
ii. Highest compatibility with the Microsoft Office formats allows you to open and edit any Word, Excel or PowerPoint files without any issues.
iii. Free desktop app enables local document editing on Windows, Linux and macOS.
iv. Free mobile apps make it possible to open and edit documents, spreadsheets and presentations on your Android or iOS-based device.
v. Numerous integration options can help you create a secure collaborative environment with Nextcloud, ownCloud, SharePoint, ONLYOFFICE Groups, Confluence, Alfresco, Moodle, Chamilo and other file-sharing platforms and DMS services.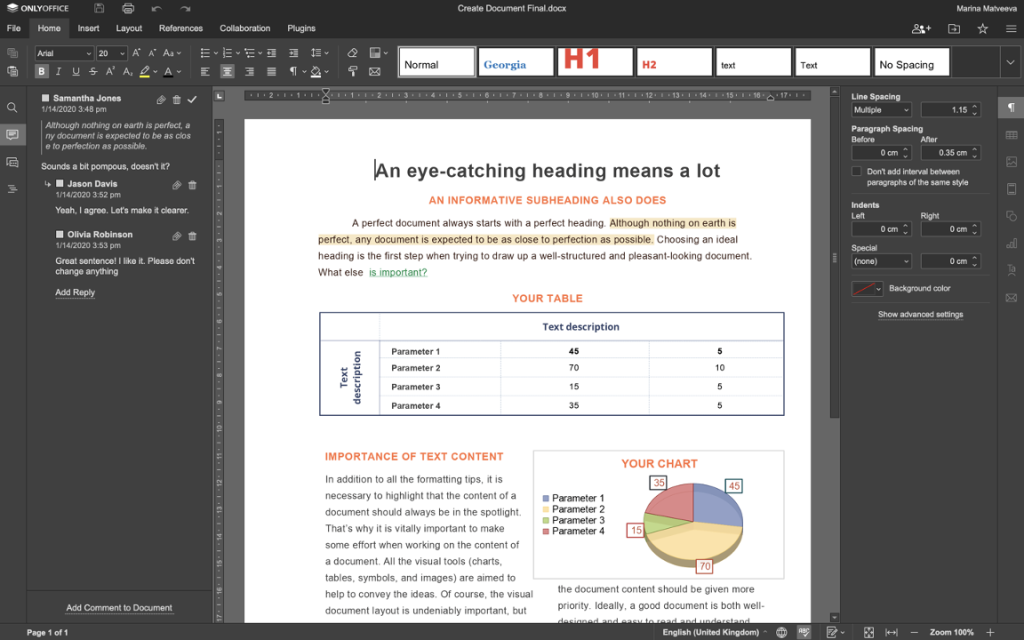 On the downside, some advantages of ONLYOFFICE Docs can turn into drawbacks for some users. Local implementation of the solution requires a server and some technical background to make everything work in the right manner.
As for differences between the paid and free versions, they offer the same level of editing functionality. However, commercial editions of ONLYOFFICE Docs come with professional support, regular updates, access to mobile web editors and a 30-day free trial period.
Conclusion
ONLYOFFICE Docs is probably one of the best open-source alternatives to the traditional players on the market, like Microsoft Office Online and Google Docs. Its decent editing functionality, collaborative capabilities, ease of use and advanced security makes it the perfect choice for business of any size and individual users who are tired of the omnipresence of the above-mentioned tech giants.