In an age where WordPress is quickly becoming the go-to for web content management, the question about how much a WordPress website costs in 2022 pops up regularly.
And it's not just new businesses who develop them. It seems like, now that the role of WordPress as a comprehensive content management system is well established, everyone from designers to small businesses and corporate powerhouses is looking for ways to build an appealing, functional website with minimal investment.
You can always seek a custom WordPress development to help in performance optimization. Before you make a website, it'll be worthwhile to consider the one thing that matters: How much will it cost? On average most websites cost between $300 and $1,500. But this varies based on factors such as the number of pages, plugins, design services and other costs. The biggest reason why WordPress is preferred is that it's cheap and easy to use.
How much will a WordPress platform cost in 2022?
WordPress is an open-source platform; updates and upgrades are free and expected by those who run their business on this platform. The only costs incurred with running a site on WordPress are hosting fees and any third-party services used with your site.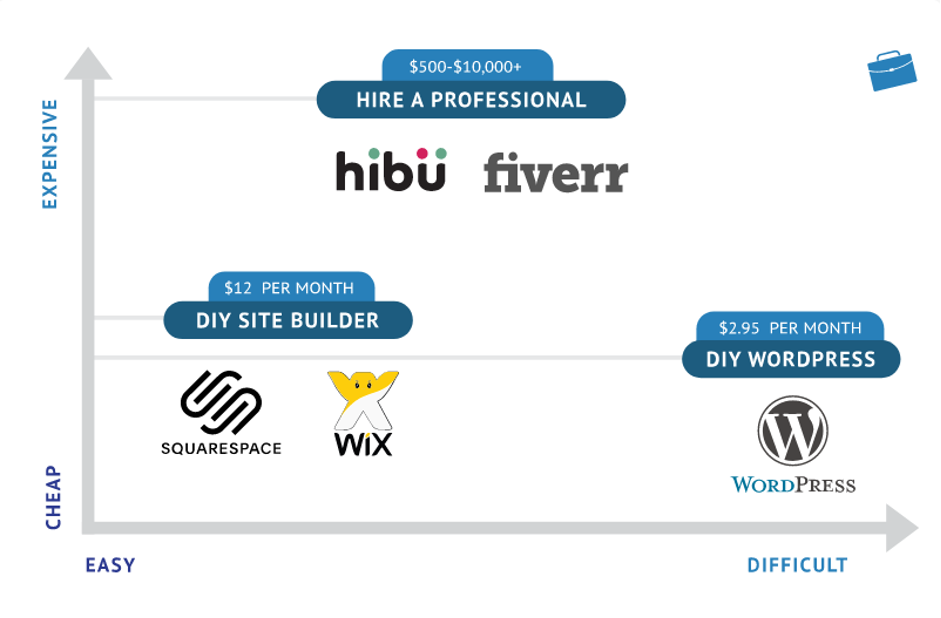 There are four different WordPress websites, and each has its own set of costs. Let's look at what they are and how much they cost.
In 2022, the average cost to build a website using WordPress ranges from $200 to $3000, depending on what you need. If you're looking for a premium custom design with high-end development, it will increase your costs.
If you want a small business website, expect to pay $500–$1500. For an eCommerce site, expect to spend between $2000 and $5000. If you want something more complex like a social network or marketplace site, expect to pay upwards of $8000.
The costs associated with running a WordPress site include:
· Hosting – $5/month – $50/month.
· Domain Name – $8.99/year.
· SSL Certificate – Free to $100.
· Software Updates – Free.
· Security Software – Free to $100/month.
· Themes – Free to $200.
· Plugins – Free to $200.
The most common fees incurred by website owners include:
Hosting – While free hosting options are available, they often come at a cost to your website. Free hosting can be highly restrictive in terms of what you're able to do with your website and how much support you can receive if something goes wrong. A reputable hosting company will charge about $30 (U.S.) for shared hosting, which is more than adequate for a small to the medium-sized business website.
Domain Name – While it is possible to run a site for free by using a subdomain (like "mysite.wordpress.com"), most businesses opt for their domain name. Depending on the extension, domains are priced from around $10 (U.S.) per year up to thousands of dollars per year for premium domains that allow businesses to brand themselves without spelling out every detail of their product or service.
Factors that Affect the Cost of a WordPress Website in 2022
A WordPress website is an overall content management system. A WordPress website can cost anywhere from $1,000 to $10,000, depending on the size, complexity and features. One of the most significant factors is maintaining it after a developer has built it.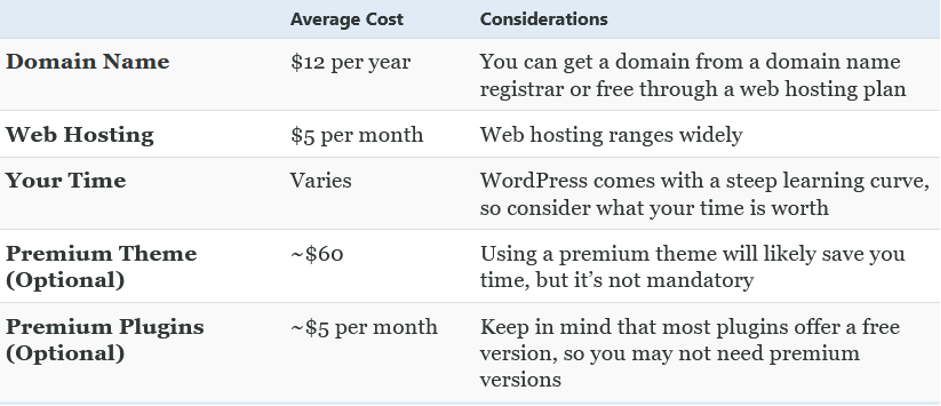 WordPress is the most popular content management system (CMS) on the planet, powering more than 40% of all websites. It's also one of the easiest CMS to use and comes with many benefits for businesses, nonprofits, and individuals.
But how much does a WordPress website cost in 2022? The answer depends on what kind of site you need, who builds it, and how much time you have to create it.
Every business is different and has different requirements and expectations from its website. The cost of a WordPress website will depend on various factors, including:
·     Website Size:
Websites come in various sizes, ranging from as little as five pages to hundreds of pages. The complexity of design also varies considerably. The more complex your web design is, the more time it will take to complete it. Hence, the cost will be higher.
·     Type of Content:
In addition to text content, many websites display videos, images, infographics and other types of content that may require additional development efforts. Custom functionality like forms or calculators can also increase the cost of development.
·      Type of Plugins:
WordPress extensions are called plugins, and you can use them to extend the functionality of your website without needing advanced coding skills. Thousands of free plugins are available for WordPress users, but you may need custom plugins.
·       Domain Name and Hosting:
You need to buy a domain name, i.e., www.example.com and hosting for your website where all files will be stored and your domain will point to these files through DNS records for your website to be visible to online users around the world 24/7/365 days a year.
·       WordPress Theme:
WordPress theme is the template that determines your website's design, layout, and styling. Thousands of themes are available, ranging from free to premium paid options. The quality and complexity of the theme you choose affects the overall cost of your website.
·       Design:
While some designers charge per page or feature, others charge by the hour. If you compare apples-to-apples and design-to-design in terms of what's included (e.g., stock images vs. custom illustrations), then the hourly rates can vary widely from $20 an hour to $150 an hour or more.
·       Backups and Backup Restoration:
Hosting Packages usually come with different plans, depending on the type of platform needed (VPS or shared), resources allocated (storage, bandwidth), etc. The price can vary from $5-50+ per month.
Conclusion
As you can see, buying a website for a business is looking more and more affordable for everyone. This is largely because costs have been dropping continually, with WordPress websites becoming one of the most inexpensive solutions available. If you want to create or edit a site or are perhaps just looking to get started with your WordPress site, then be sure to take advantage of the resources outlined here!