It is inevitable that you lose files like photos, documents, videos, emails, or any other important files on Mac in your daily life. You probably deleted valuable files from the Trash by accident, or you lose files because of unexpected disk corruption. Under these circumstances, professional Mac data recovery software would be a lifesaver.
However, the reasons for data loss vary from case to case. Is there a comprehensive data recovery tool that helps you recover deleted or lost files on Mac computers easily and efficiently?
I recently used iBoysoft Data Recovery for Mac and find it a helpful Mac data recovery tool.
About iBoysoft Data Recovery for Mac
 There are all kinds of data recovery software on the market, but they are either too expensive or not competent. Nevertheless, iBoysoft Data Recovery for Mac is standing out because it's free Mac data recovery software with comprehensive ability to recover photos, documents, videos, music files, emails, etc. on Mac computers.
A general impression of iBoysoft Data Recovery for Mac
iBoysoft Data Recovery is user-friendly Mac data recovery software. With a small installation package and an intuitive interface, users can easily operate this program even though you don't have any data recovery experience before. It is compatible with macOS 10.14 (Mojave), macOS 10.13 (High Sierra), macOS 10.12 (Sierra) and Mac OS X 10.11 (El Capitan), 10.10 (Yosemite), 10.9 (Mavericks), 10.8 (Mountain Lion), 10.7 (Lion).
Key features about iBoysoft Data Recovery for Mac
APFS data recovery:  From macOS 10.13 High Sierra to the latest macOS 10.15 Catalina, the Mac hard drive is using the APFS file system. However, quite a few data recovery tools on the Market support APFS data recovery indeed. iBoysoft Data Recovery for Mac is one of the few ones that can recover deleted files from APFS/encrypted partitions and recover data from deleted/lost/formatted APFS partitions.
 Unbootable Mac data recovery: People may think, data recovery on Mac is possible only when the Mac is working, and once the Mac is crashed, it's hard to get the files out of the Mac. You think that because you don't use iBoysoft Data Recovery for Mac before. It is one of the few software that can recover lost files from unbootable Mac caused by macOS crash, Mac hard drive corruption, etc.
 Deleted file recovery: It is also powerful in deleted file data recovery. People delete important files by accident from time to time. It is possible that you emptied the Trash but later regret, or you mean to delete one file by mistakenly removed another. iBoysoft Data Recovery for Mac would be a good helper to recover deleted files in all these situations.
Hard disk data recovery: Another reason for this data recovery program being welcomed is that it can recover data from most common hard disk drives on Mac, including Mac hard drives, external hard drives, SD cards, USB flash drives, memory cards, CF cards, etc.
Corrupted drive data recovery:  Disk corruption is one of the most common reason for data loss. However, no storage device can escape from corruption. Under this condition, iBoysoft Data Recovery for Mac would be good solution to recover data from corrupted drive, especially when users don't have any data backup. Besides, it also can recover data from formatted, inaccessible, and RAW drives.
 Supported file systems: APFS, encrypted APFS, HFS+, FAT32, exFAT
Why data recovery is possible?
 As a matter of fact, file deletion is different from what you thought it to be. When you deleted a file, what you deleted is the directory to locate this file rather than the file itself. It's kind of like that you tear the content table out of a book but the content page is still there. Similarly, the deleted/lost files are still on your disk until they are overwritten by new data. That is the reason why Mac data recovery software can get your lost data back.
 How to recover data on Mac with iBoysoft Data Recovery for Mac?
 Step 1: Install and launch
 Users can download and launch this free Mac data recovery software on the Mac computer, and it will list all the storage devices connected to this computer intuitively.
Step 2: Select the disk where you lost data
 The next step is to select the disk where data was lost. If data loss happened to a lost APFS partition, you need to click on the "Find lost APFS partitions" at the upper right. If you lost files because of formatting, check the "Deep scan" box at the lower left to find more files.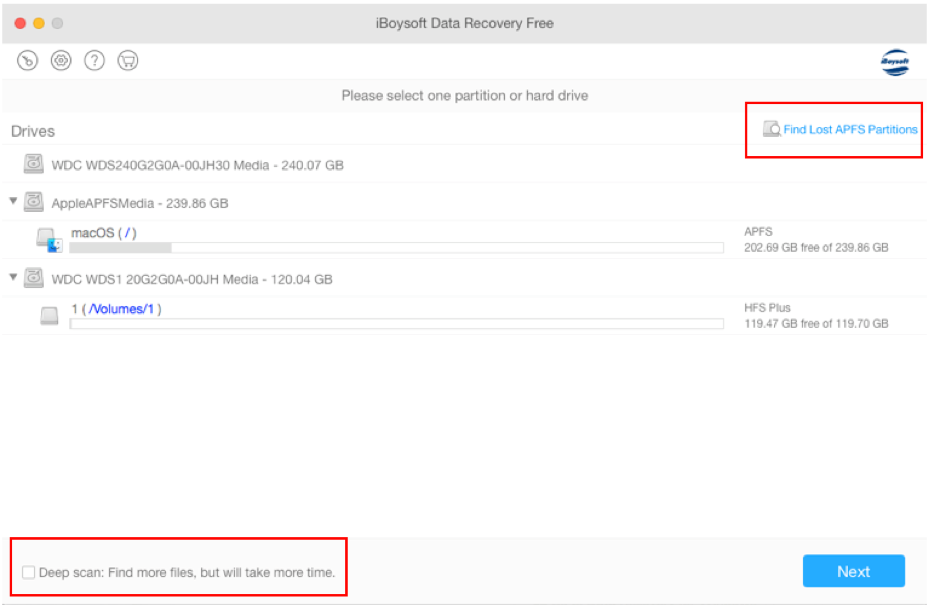 Step 3: Scanning the lost files
Click "Next" to search for data on this drive. The scanning result will show in the left sidebar and users can easily find the desired files in accordance with the file path, type and creating date.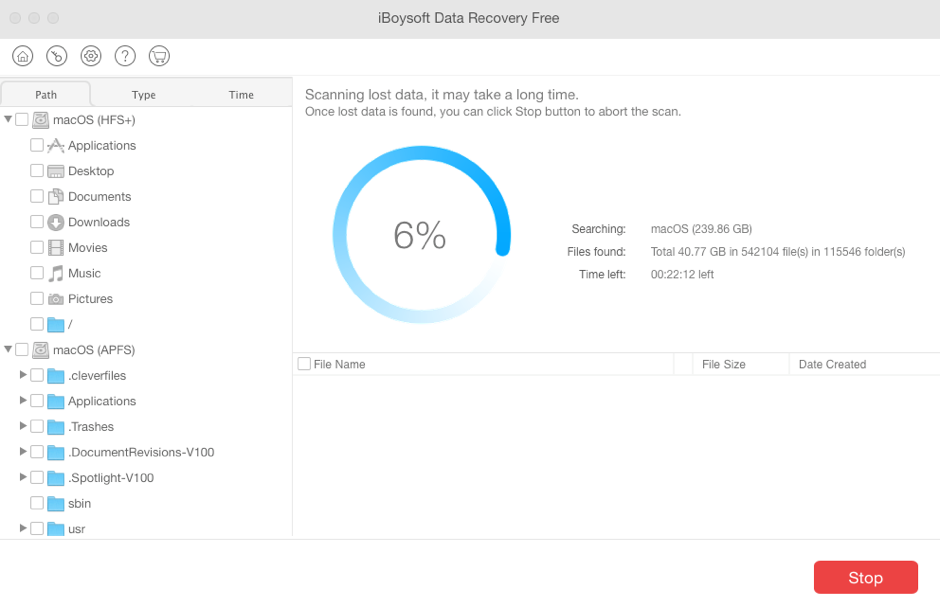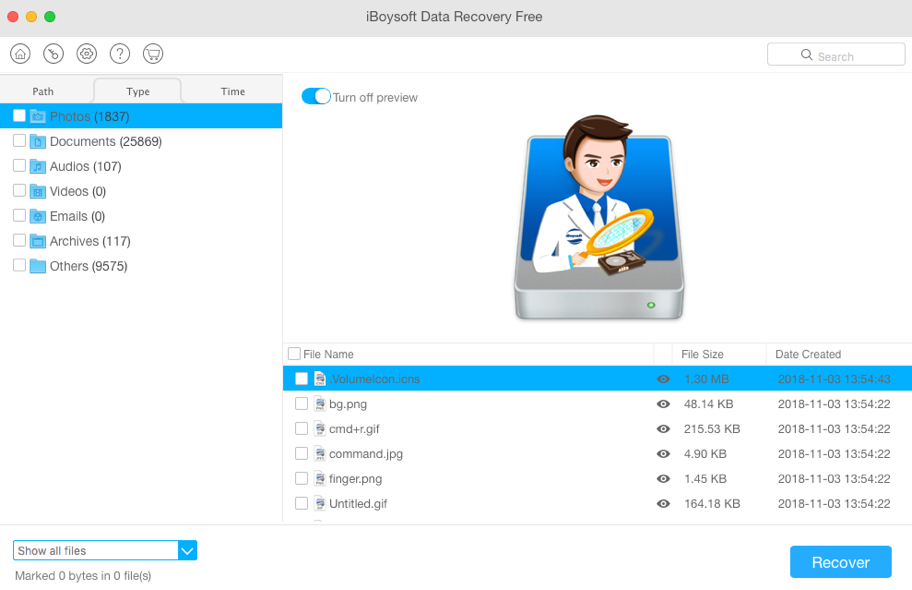 Once the target files are found, users can preview this file. After making sure the file is still in a good condition, you can select the files you need to recover, and click on the "Recover" button to get them back.
Tips: iBoysoft also has free data recovery software for people who lost data on a PC running Windows 10 and older versions.
Conclusion 
iBoysoft Data Recovery for Mac will write new data to your hard disk as it will only read this disk. It's user-friendly with simple but efficient interface. What's more, it is powerful to recover data from several possible data loss situations. In conclusion, iBoysoft Data Recovery for Mac is your all-in-one solution to recover lost and deleted files on Mac computers.