Whether you are an entrepreneur who has just ventured into his first project, an owner of a small business, or a Young Turk who has just floated his startup idea in the market, at some point or the other you will need a virtual business phone number for the obvious reasons.
It can be any of these — you want your business to look professional, make it scalable, work while you travel, and many more. A Virtual phone number does not just make business much easier but life too.
But with too many virtual phone number systems available in the market, it often gets tricky to choose one that is the most suitable for one's business needs. So, here are the top 14 US virtual phone number providers that you must consider before you choose one for your business.
Top 14 Virtual Phone Number Providers in the USA
1. Kall8
Kall8 gives you the advantage of having your own toll-free number exclusively. Apart from the toll-free services the users can have secure online management of the system that is available to them on a click.
There is a whole range of features such as custom call forwarding; call blocking, conferencing, etc. and all of them are available at no extra cost at all. Kall8 is extremely easy to use, packed with features, and offers 24/7 support. Apart from this, it is an economical choice as well.
2. M800
M800 can be your best one-stop communication solution provider. The provider combines telecom and digital channels so the customers get the most out of their services. They offer solutions to retail banking, call centre and E-commerce. When you use M800, you can engage with your customers anywhere, anytime, and also on any device.
As for the pricing, their plans are designed for businesses of different sectors and sizes. Their annual and monthly subscriptions are affordable that give a lot of flexibility to the customers. The company is ISO 9001 and ISO 27001 certified and PCI-DSS and GDPR compliant. The business is now rebranded under the name maaiiconnect, so don't get confused.
3. CallHippo
As a virtual phone number provider, CallHippo works with the motive of helping the small business owners connect with their customers in the most convenient, efficient, and cost-effective manner. The service provider helps you get connected to prospects from around 50 countries and more through its product's feature-rich interface.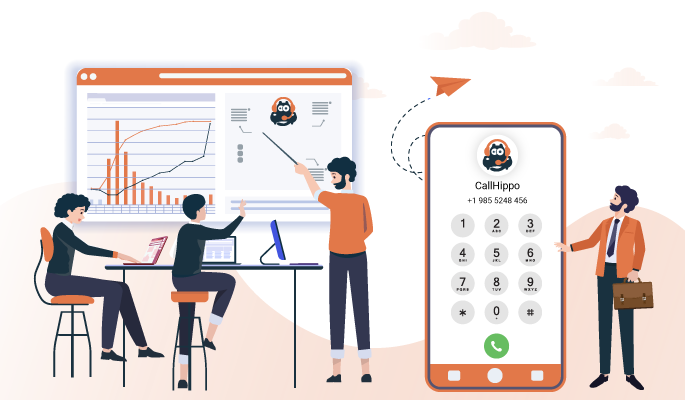 The phone number service form CallHippo is available both as a web-based and mobile application. Its call recording feature is used for improving the quality of calls and the real-time analytics tools are used to get a caller's detailed information. The virtual phone services offered by CallHippo can be easily integrated with multiple business software solutions as well.
4. Phone.com
For all those who value brand value as much as the services and the convenience, Phone.com leads the way as the vanity phone number provider. The customers also get auto attendant feature and a choice between unlimited calling plan/pay per minute plan.
Customers using the Voice phone service can enjoy fully customizable auto attendant feature along. The other services available are voicemail, email, text, fax and unlimited extensions. So if you are looking for a customized number for your business, look no further!
5. TollFreeForwarding.com
TollFreeForwarding.com offers local and toll-free numbers in 120+ countries. There is no fee for setup and you can get a smart, international number in less than a minute. You can choose to cancel it anytime as well.
Some of the top features offered by the provider are real-time reporting, Fax2myemail, voicemail2myemail apart from the regular call forwarding, call recording etc. A number offered by TollFreeForwarding.com comes with all the advanced call management capabilities. For the benefit of the customers, the pricing is categorized as starter, medium, large and high volume.
6. Global Call Forwarding
Global call forwarding is rightly marketed as 'the perfect solution for businesses, call centers and sales teams.' It provides local, toll-free and mobile numbers around the globe together with several other services that complement the telecom needs of a business.
It serves in 140+ countries and its customer base ranges from individuals to small to medium-sized businesses and also multinational corporations. The customers can have unlimited extensions, SMS forwarding, international call forwarding, risk free trials and still no bother about any kind of contracts or commitments.
7. Grasshopper
For business owners looking to add premium phone features without having to install any kind of equipment, Grasshopper is often the first choice. The provider offers features such as automated attendant, call forwarding and unlimited calling at an all-time low base price. Some of its other features worth a mention are call routing and extensions and call management.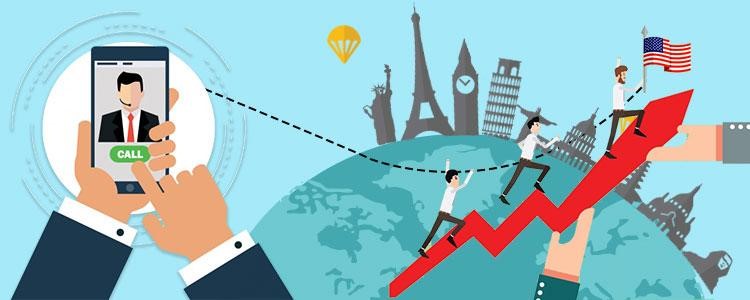 Their setup is easy and does not require anything more than the landline or the cell phone that is being used by the customer. As a part of a user-friendly interface, its users are provided with separate tabs that help them to access the different configurations.
8. Jive Communications
When it comes to the most versatile VoIP system for a business, Jive communications has the answer. Apart from the vital features such as unlimited calling and call forwarding, the company offers 80 top-class business-grade features to its users and all of it at a fixed monthly rate.
Some of the features that are worth a mention here are Custom schedules; Find me/Follow me, and Call Management. The company has some of the best reviews in the industry and it is also easy to set up and use.
9. VirtualPhone.com
For owners of a small business or startups looking to venture into the international market, VirtualPhone.com is a great choice. It boasts of features such as voicemail, auto attendant, call forwarding, call routing and extensions among many others.
If you are a new customer to the company, they will offer you a starter package at a low cost or absolutely free. It has a user-friendly interface and can be set up in the matter of minutes. Once the customer has signed up, they get a demo of 100 minutes.
10. eVoice
The USP of eVoice is that it pairs the virtual phone number services with integrated fax abilities. The customers who are willing to send information via fax instead of the email can do so with the affordable options that are offered by the provider.
There are four different plans that the users can choose from and their cost depends on a number of different factors. Apart from all this, the setup is simple and the interface user-friendly. Auto attendant, call routing and extensions and call management are some of its important features.
11. Google Voice
If all you are looking for is simplicity to use and the most basic features in a VoIP telephone system then Google Voice will well fit your budget very well. The services offered by Google Voice can be used on landlines as well as mobile phones.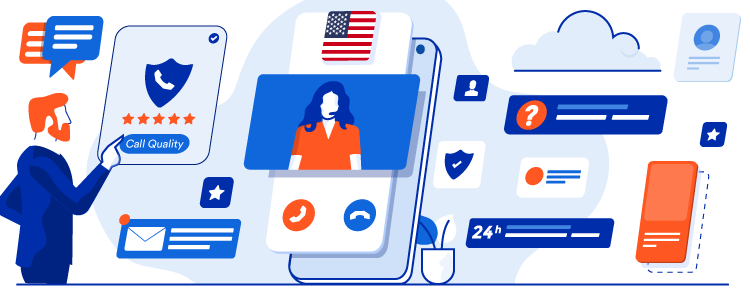 The service provider offers all the basic services at no extra cost. Another great advantage is if you are looking to keep your business calls away from your personal calls, Google Voice will offer you a second number with no monthly fee at all.
12. Nextiva
For all you entrepreneurs running the show solely or the owners of small businesses, Nextiva offers a comprehensive business phone system to its customers and that too at a price that is affordable. The customers can also enjoy unlimited domestic calling together with multiple service plans.
Some of its most liked features are Office Pro, Office Pro Plus, and Office Enterprise. It has a simple and straightforward process of setup and an easy to use interface. For anyone looking for a virtual phone number, Nextiva is a great combination of perfect pricing and innovative features.
13. Line2
As the name suggests, Line 2 is all about having one phone and two lines that lets you do much more. The service provider lets you keep your personal calls and texts separate from the business ones. With this you can take care of your business even while on the go so you never miss an important call or opportunity.
With Line2 you can easily have the business phone number of your choice. It is an affordable solution that starts at $9.95 and can be easily setup within minutes and it does not require any hardware or IT for the purpose.
14. Freshcaller
Freshcaller is the virtual business phone app provider that is suitable for small as well as growing businesses. Their plans are often reasonably priced to suit the budget of a variety of customers. The services offered include toll-free numbers, international numbers, vanity numbers, using the existing numbers, or hide the local number with a virtual number.
Some of the top features offered by the provider include call waiting,call management tools, mobile apps, business hours, shared lines and much more. Their pricing is $19 per agent, per month, or you may also pay per minute.
So when you are deciding one among these US virtual phone number providers, remember to consider factors such as price, convenience, call management, customer support, quality of phone calls, etc.