Summer is an excellent time to update your bedding and refresh your bedroom. However, as a wholesaler, it is also a good time to sell and empty those inventories to add new ones. Furthermore, it is critical to stock up on top bedding that will be in high demand. So, if you are a wholesaler, here are the top 8 beddings to sell this summer.
Top 8 Beddings for Wholesalers
1. Lightweight Comforters
During the summer months, the last thing people want is to be weighed down by a heavy comforter. A lightweight comforter is a perfect solution for those hot summer nights and the best one to sell to. Therefore, as a wholesaler, consider stocking up on lightweight comforters that are made from breathable materials such as cotton or linen.
2. Bamboo Sheets
Bamboo sheets are also a popular choice for summer bedding due to their breathable and moisture-wicking properties. They are also eco-friendly and hypoallergenic, making them a great option for those with sensitive skin. As a wholesaler, consider stocking up on bamboo sheets in a variety of colors and sizes.
3. Cooling Pillows
A cooling pillow can help regulate body temperature and keep people comfortable during the hot summer months making it ideal to sell this summer. They are typically made with cooling gel or breathable materials that promote airflow. If you are wholesaling, consider stocking up on cooling pillows that come in different shapes and sizes to suit different sleeping positions.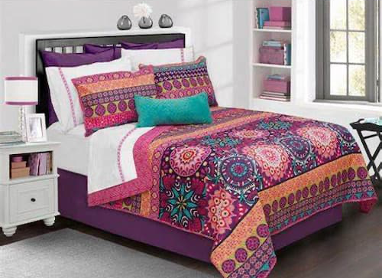 4. Linen Duvet Covers
Linen duvet covers are a popular choice for summer bedding due to their lightweight and breathable nature. They are also highly durable and get softer with each wash. If you are wholesaling, pick those linen duvet covers in a variety of colors to suit different decor styles. You can also pattern those in your inventory like the western bandana bedding styles.
5. Cotton Quilts
Cotton quilts are a great option for summer bedding as they are lightweight, breathable, and easy to care for. They come in various colors and patterns, making them a versatile addition to any bedroom. So, sell those cotton quilts that are made from high-quality materials and are machine washable. With your selection, you can see to it the customers will find a good reason to pick your store for summer products.
6. Microfiber Sheets
Microfiber sheets are also a common pick for summer bedding due to their soft texture and affordability, and it is one of the season's emerging products. They are also low maintenance and come in a range of designs and colors. If you want to sell this wholesale, try stocking up on fade-resistant and wrinkle-free microfiber sheets. Also, do not forget to pick ones that are affordable and easily available from your suppliers.
7. Pillowcases in Silk
Silk pillowcases are an opulent addition to any bedding set. Because they are hypoallergenic and gentle on the skin, they are a popular choice for people who have sensitive skin or allergies. As we know, the summer season often gives people that allergy trigger and a good product for their bedding can ease their struggle. Silk pillowcases come in a variety of colors and sizes, and they are also easier to sell.
8. Quilted Throws
Quilted throws are an excellent way to add color and texture to a bedroom. They are also a useful addition to those cool summer evenings. If you want to sell this item, choose those that have unique designs and are made with different patterns for room complementation and for decoration too.
The Bottom Line
It is critical for wholesalers to stock up on the top beddings that will be in high demand during the summer months. These top ten picks that we have shared with you are some of the best products that have proven to be the best sellers during this hot season. Furthermore, by providing a variety of high-quality bedding choices, you can meet your customers' needs and increase your sales this summer.