Evenings in an outdoor garden are all about entertainment – may that be with your family or with friends for small drink parties. They are also about relaxation after a lengthy day. These reasons give any kind of garden lighting enough reason to aim for providing a feeling of tranquility and also security.
In fact, transforming your backyard gardens into warm and inviting spaces is really where outdoor lighting is brought into play. This could mean employing task lighting in turning your rock gardens into dazzling centerpieces to be gazed on while eating on your patio. Whichever your goal is, we will try to guide you to the right path to ensure you get the exact effect you're aiming for in this article.
But first, just like indoor lighting, the key to exceptional garden lighting design is by 'layering' it. This means employing various lighting types which will be discussed in the next section.
3 Exterior Lighting Layers For Outdoors
#1 Accent Lighting
Accent lighting is a type of lighting used in featuring particular areas in your garden such as your award-winning flower beds or central trees. It normally involves the deployment of several floodlights.
#2 Ambient lighting
Ambient lighting is a lighting that does not need to have a particular purpose and is mainly used in creating a mood. Its purpose is similar to that of background music. Examples are fairy lights that are hung on a nearby tree or a fence.
#3 Task lighting
Opposite to ambient lighting, task lighting is a type of lighting that has a purpose. Examples are the lighting of:
The stairway on your patio,
The sensational engravings on your home's exterior walls, and
A barbecue pit.
Also, remember that adding exterior lighting on your garden during the night should not try to emulate your garden's colors and beauty during daylight. Instead, it should attempt to bring a 'different' garden into focus. To put it simply, create a mixture of both highlighted features and shadowed silhouettes and more contrasts. Through this, your garden is transformed into a more mystifying place during the night.
3 Available Types of Outdoor Lighting
Below are the three types of outdoor lighting you can choose from.
#1 LED Lights
LED lights are the most frequently used type of lighting these days both for outdoors and indoors. This is because not only are they more efficient in energy usage but are also less costly in the long run. LED lights use around 80% less energy compared to traditional incandescent lights.
Another important factor is that they have a far longer life span compared to other types of lighting. LED strip lights are commonly used types of LED lighting as they are more flexible (can adapt to any curvature) and are easier to install. Wanna try one of these? Check out this www.elstarled.com.
#2 Halogen bulbs
These type of bulbs have less efficiency compared to LEDs but are initially less expensive. Many individuals still favor the light produced by these bulbs than LEDs as LEDs tend to provide either a 'cold' or 'warm' color of white only.
#3 Lighting Controllers
Lighting controllers may come in various forms. Automatic timers are the most popular ones while fobs and wireless keypads allow the manual control of lights.
Lighting Tips in Highlighting Your Doorway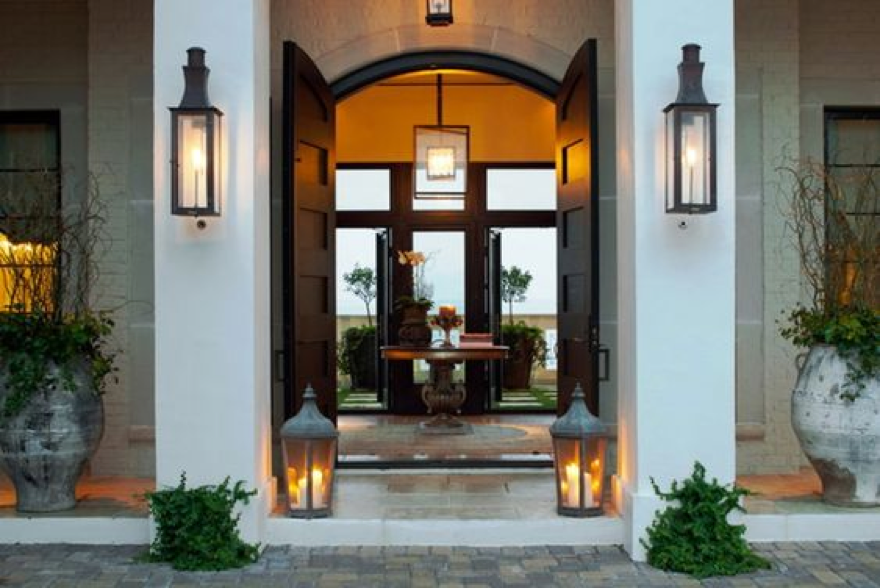 Lanterns situated on either of your house door's sides look great. Just make sure that the potentially charming features of your doorway are not destroyed by putting bulbs that are too bright in them.
Your door lights should be ambient instead of being task-oriented. Through this, the light is kept low and is prevented from glaring into your nighttime guests' eyes. The glare can make them squint whenever you open the door.
Tips in Outdoor Paths Lighting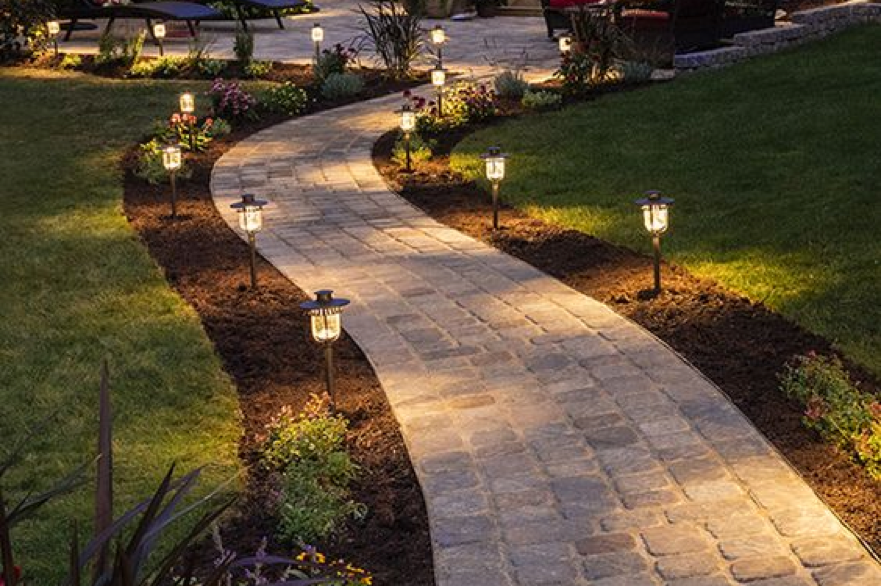 Spotlights are great choices in creating interest, and also security, when employing an exterior illumination to highlight paths in your front or back garden. Put lighting on both of the path's sides and have varying distances between spaces.
Symmetrical and uniform lights in the path are going to make it an unwanted point of focus. Considering that there are much more other things to pivot on at night in your garden. On the other hand, lighting fixtures that are too near to paths can be easily broken as stepping on them cannot be prevented.
Lining the path with LED strip lights is also a great choice as they are more durable and are not easily destroyed. They can also be used to line the path leading to your front door.
Read more on why you should install pathway lighting and other lighting ideas in this article.
Lighting Tips in Highlighting Your Outdoor Patio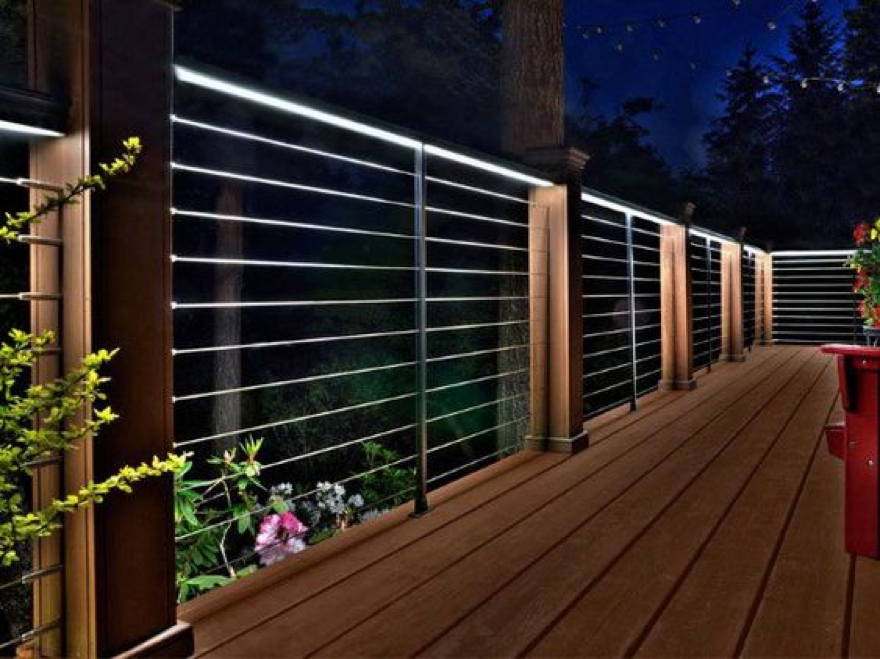 Use downlighting to highlight a seating or dining table in your outdoor patio. This can be achieved through fastening spotlights to sturdy branches of nearby trees or overhead trellising. Through this, the light is going to shine downwards which avoids glare in your eyes. This also helps in creating a more intimate and cozy atmosphere.
Also, consider installing floor lighting by fitting the decking with diodes. Glare can also be avoided and is a much subtler lighting style. If you have a concrete patio floor, you can embed colored LED strip lights on the outline. This adds overall interest to your patio by separating it from your garden.
For a simple technique in illuminating your garden or backyard, you can also place LED strip lights along the base of your deck's stairs. This makes the area safer and creates a very modern look.
Want more tips? Read this article for twelve more ideas in lighting up your deck.
You can also use LED fairy lights to imitate candles to produce a romantic atmosphere in a dining table outdoors. Scrunch them up inside a glass dome to generate ambient lighting. Aside from this, the also look very cute.
Exterior Lighting Tips in Highlighting Trees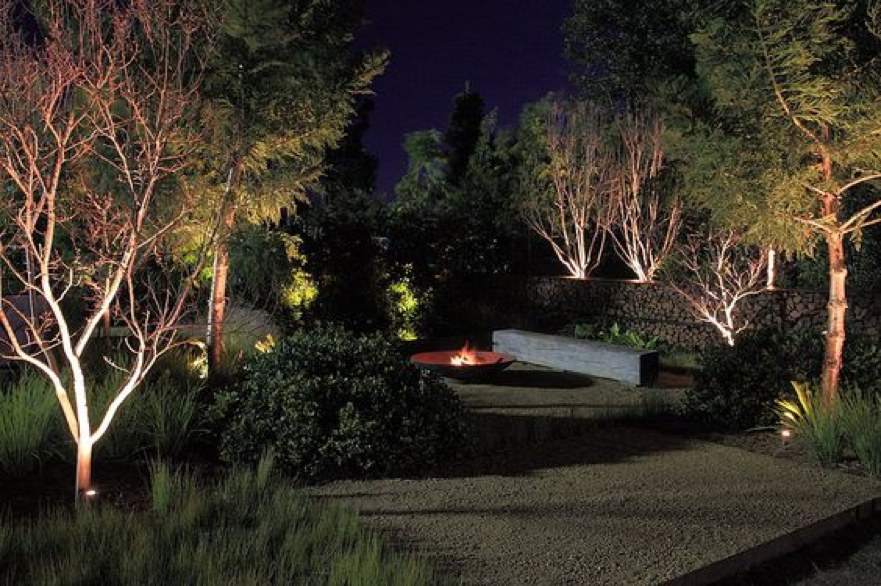 Uplighting is the best lighting method for trees.
Trees look awesome when lighted from below because the light highlights the texture of the trunk and adds to the foliage's softness. Just ensure that the trunk is actually lit up or you'll get an effect kind of a hovering UFO when only the foliage is lit up.
A maximum of five 50-watt floodlight bulbs having a typical 40-feet wide expanse of light is recommended on tall trees. Spotlights and bullet lights, on the other hand, are great on shorter trees as these lights have narrow fields. For trees having heights less than twenty feet, only a few uplighters having a 20 wattage are needed.
Here are four more lighting tips in highlighting trees, including shrubs, aside from uplighting.
Conclusion
In designing a lighting system for outdoor purposes, there are a lot of sensational scenarios you can try out. And it might have pleased you to learn that most outdoor illumination nowadays is of low voltage varieties. These kinds of lights do not only make working with lighting safer. They are also much less costly as far as your utility bill is concerned.
Whatever your lighting type choices are, the appropriate positioning of the lights in illuminating a certain area improves the overall ambiance and comfortability in your garden. We hope we were able to provide the necessary information you need in designing an outdoor lighting system.