Routers are often the gateway to good latency, and latency is the only way to improve your ping speeds. For day-to-day work and recreation on a computer, slightly slower internet won't be a massive difference, but people who want the best gaming experience possible will often need to squeeze the best possible performance out of their setups – and that includes their router.
How Do Routers Help?
Most people with an interest in gaming already know how routers and latency work, but it's still worth explaining just in case. Having low latency results in less time between your inputs and the server's response, which often gets the name "ping". High ping results in delays, slower reaction times and sometimes even an inability to properly play the game due to things not loading correctly. If you're playing locally, this is all easy to ignore, but the moment you start up an online-focused game (or an online match of a game that offers both online and offline modes), it can become a problem. Reducing your ping is key for the best experience possible.
Should I Replace My Router?
A good router is one step towards a better ping, but it's not the only link in the chain. If your ISP is slow, a router will only be able to improve your latency. Still, the difference can sometimes be noticeable – you might be able to reduce your ping from 100 to around 50, which is half the latency and half the input lag. However, that doesn't mean that you should always replace your router and leave it at that: if you're still noticing slow speeds, it could be something else entirely: even a mistake as minor as not installing the wireless antenna that needs to go into the back of your PC. An internet connection isn't just software, its hardware too.
Really, most of your connection is still down to your WiFi. As long as you have a decent connection, your ping should be decent too, unless you're downloading dozens of files at the same time. The more strain you put on your internet, the more lag and latency you'll have to deal with, but you can always try to resolve this by pausing downloads or turning off unnecessary programs that might be using your internet.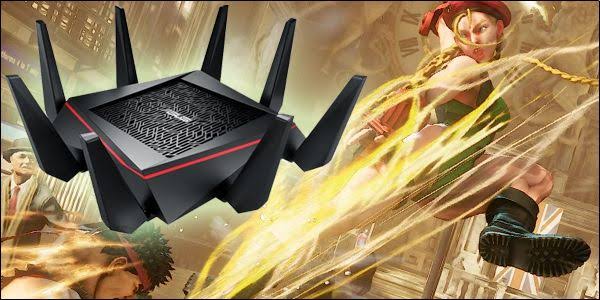 Does This Affect All Games?
There are certain games where even the best gaming routers won't actually make much of a difference. When it comes to turn-based strategy games, you'll only notice a small delay between turns, similar to the mild lag you'll feel with real-time strategy games. Massively-multiplayer games will be tolerable, as long as you're not fighting against other players.
Once you get into first and third-person shooters, the delay will start to become an annoyance, and racing games will be a similar story. However, fighting games are the real problem – they're one of the most intense, connection-reliant game types out there, so you'll want the best connection setup possible. Poor latency has resulted in many would-be fighting game players dropping the genre forever.
If you're playing a game offline, it shouldn't have any direct impact, unless it still needs to connect to a server. Even if you're not playing with other people, a game that relies on a server to handle in-game items or events will still slow down, since it's taking longer for your computer to send and receive information.
Are Gaming Routers Worth It?
Gaming routers are, as you'd expect, the router equivalent of gaming mice or gaming keyboards. They're still a regular router at their core, but they often come with extra benefits – more Ethernet ports, better setup options, and system controls, and sometimes even more antennas that give you a wider area of coverage. It's entirely possible to have a great gaming experience using a standard router meant for offices or home use, so it really comes down to how seriously you take it.
If you're just a casual gamer, or occasionally take part in certain online games for fun, you probably won't need to milk every last piece of power and connection out of your device. But if you're playing professionally, or take part in tournaments and events that pit you against top-tier opponents, it could be worth the investment.