Telegram is thought to be a highly secure messaging app, and this has seen it gain increasing popularity. It offers optional end to end encryption as well as encrypted local storage for Secret Chats. However, as it attracts more users, it brings a negative touch where people may use it to exploit others.
Messaging apps are currently a big part of daily communications, and with a successful Telegram hack, you can access a lot of secrets about a person. Cocospy is a dependable phone-monitoring app that allows remotely spy on Android and iOS phones and tablets without being detected.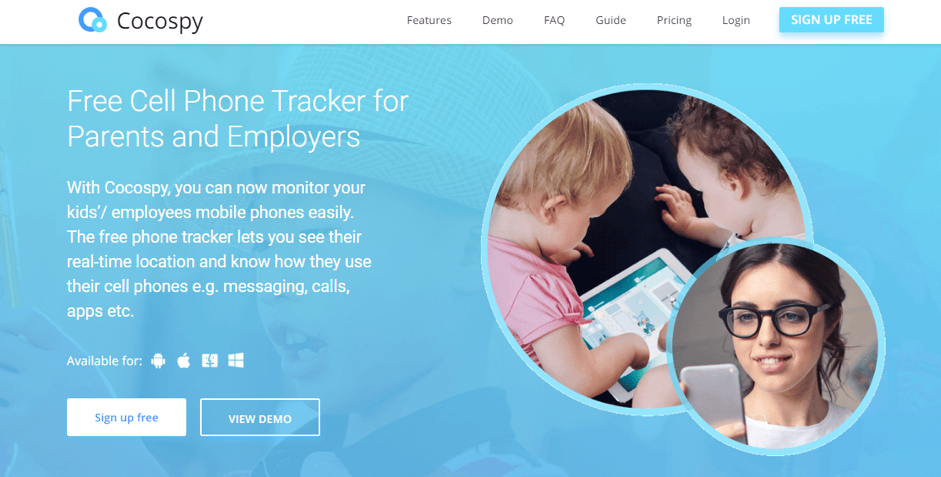 When Would You Use a Monitoring App to Hack Someone's Telegram?
The idea of hacking into someone's Telegrams may sound malicious, but there are some instances where it is necessary and justified. Sometimes it is the only way to find out the truth and help you deal with your worries or concerns.
As a parent or guardian to a child with a smartphone, you to safeguard their well-being at all costs. Keeping an eye on their activities while they are on the phone will give you an extent of control to the activities, they engage and also who they are interacting with. Spying on a spouse or friend may also be necessary, especially if you are not sure where their loyalty lies. 
How does Cocospy Work?
There are two ways to hack Telegram using Cocospy:
This function lets you keep an eye on all chat and call log communications of the target. You will be able to see the actual details of the message as well as the date and time they were sent. The target's contact list will also be available for you to see, as well as the media files.
However, with the spying feature, you will not be getting access to the user's password. The monitoring app will just be spying on the activities on Telegram and alerting you.
If you need to hack a Telegram account and password for total control, then you ought to use the keylogger method. The Cocospy app will record actions struck on the keyboard to provide you with the password or any other information you may need. Once you have the password, then you get full access to the account and do whatever you want.
Where and How to get Cocospy
You can access Cocospy Telegram hack here! A demo is also available on the website to give you a rough idea and guidance on how the app works.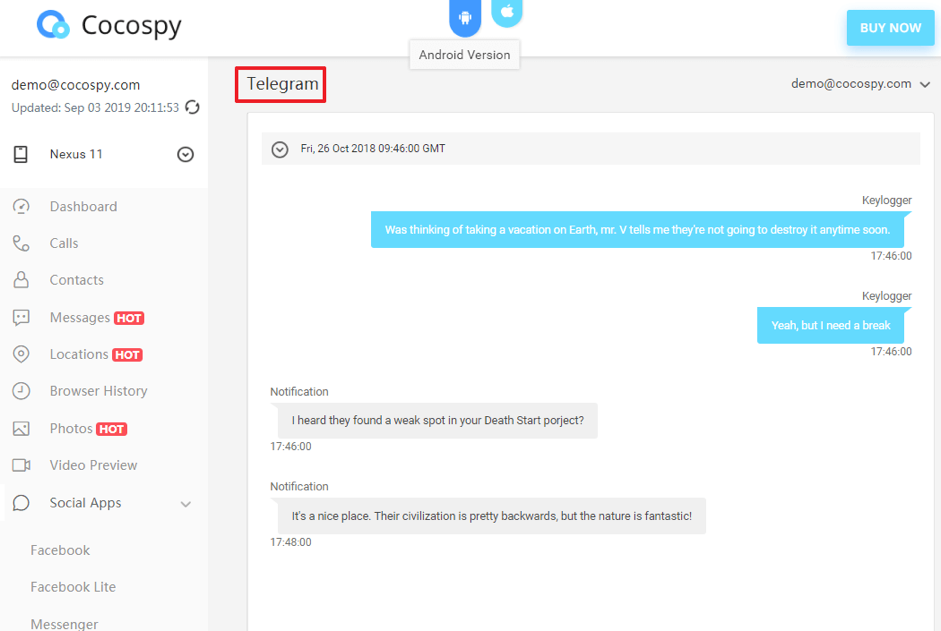 First, create an account using your email address. Then you will choose a pricing plan that suits you and after payment, proceed to install the app on the target device. There are three payment plans, but the Telegram hack is only available on premium and family plans.
You can make payments based on a monthly, quarterly, or annual basis. Also, the price plans for Android and IOS vary, so make sure to select the appropriate payment plan depending on your target device's operating system. Once installed, go to Cocospy's site using a different phone, and on the dashboard, you will be able to access all Telegram hacking functions.
Benefits of using Cocospy to hack Telegram
Cocospy is a useful and reliable tool for hacking Telegram. Some of the things that make the app stand out include:
Setting it up is fast and easy. If it is an Android device, you require quick physical access to it while for Ipads and Iphones, set up can be done remotely.
The app is very discreet, making it the ultimate spy tool. Targeted individuals won't be able to tell that their activities are being monitored. This is in both android and iOS devices, regardless of the package.
You do not have to worry about rooting or jailbreaking the target device. Cocospy works well without trouble.
You gain significant access to the hacked Telegram account. In addition to viewing messages, media files, call logs, and contacts, you can also tell the location of the targeted device.
Summary
Cocospy helps you keep an eye on what matters most to you without risking your discovery. It promises to work throughout the world provided the target phone is supported and is active on a carrier service. Also, in case of any difficulties, there is a dedicated customer service team that works round the clock.