A hacker claiming to be "Kashmiri Cheetah" from the hacktivist group named "Pak Cyber Attackers" had managed to gain access to an Indian Embassy server that hosts multi Indian Embassy websites. The hacker had managed to deface all Embassy websites hosted on the server, by uploading an index.html page with a "Website Stamped By Kashmiri Cheetah" message along with a picture of a skull a directory named "docs".
According to the deface page left by the hacker, the motives behind the hack is unclear, while no political reason appeared to be behind the server breach or website defacement. However, it's still not known if there were any important data stored on the server or websites, which may have been stolen by the hacker.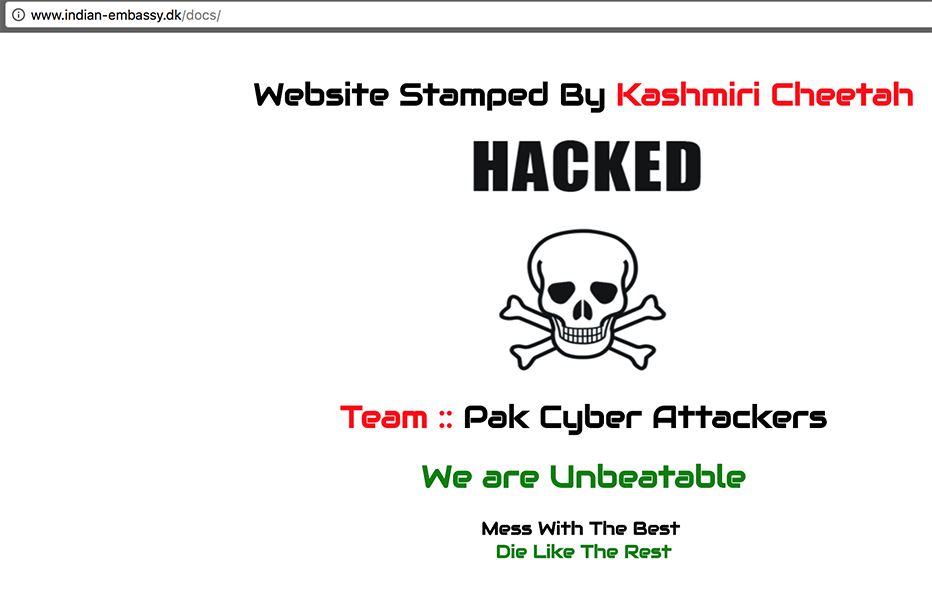 Upon investigating this hack, the Pakistani hacker had shared a screenshot of the "Embassy of India, Copenhagen, Denmarkon" websites admin control panel on his Facebook profile. Although the method used by the hacker to gain access to the server and websites remain unknown.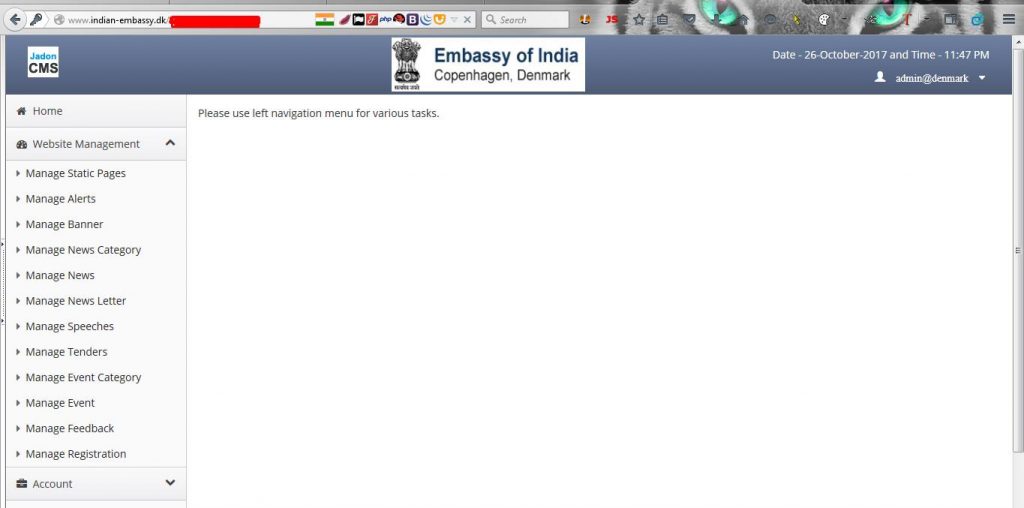 At the time of publishing and writing this news article, the server, and websites of the Indian Embassy remained hacked. Websites that had been hacked and defaced are the following:- http://eoicairo.in/docs/ (Embassy of India, Cairo, Egypt), http://www.indian-embassy.dk/docs/ (Embassy of India, Copenhagen, Denmark), http://www.indianembassyalgiers.org/docs/ (Embassy of India, Algiers, Algeria), http://www.indemb-oman.org/docs/ (Embassy of India, Muscat, Oman), http://www.indianhighcommissionfiji.org/docs/ (High Commission represents of India, Suva, Fiji).
Just a few months ago, a hacker claiming to be "Faisal 1337" from the same hacktivist group had gained access to the "Mumbai Customs Zone 1, Government Of India" website that had been defaced as well.
Update:- It has been more than 12 hours, while the websites appear to be still defaced. It is believed that the webmasters of those websites aren't aware of the hack.
Update:- The administrators are aware of the breach and have deleted the deface pages uploaded by the hacker.