Here is yet another crypto trading bot that presents itself as an excellent tool for automatizing crypto trading. Bitcoin Fast Profit is supposed to handle the trading process on your behalf in its entirety, while you're busy relaxing and enjoying life's wonders. If that sounds too good to be true, that's because it is.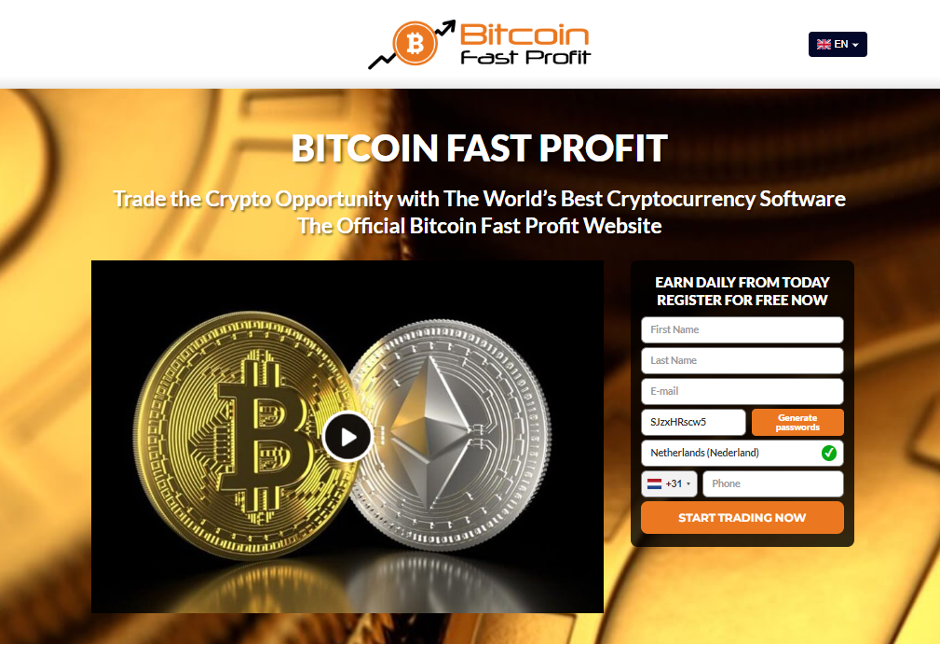 Don't get us wrong, trading bots can indeed be helpful, but they require constant supervision and a great deal of manual trading strategy modifications. And that's if they're legitimate.
The sad truth is that most trading bots are just scams – you won't see any profit after placing a minimum $250 deposit, on the contrary. Instead of learning how to trade Bitcoin, beginners are enticed by the unrealistic promise of a lucrative passive income, that not even legit trading bots can fulfill. So, let's examine all the evidence showing that Bitcoin Fast Profit is, without question, just another scam, and not a tool for quickly making a fortune.
1) Fake User Reviews
For starters, we were interested in what kind of reputation Bitcoin Fast Profit has with users. For this purpose, we visited Trustpilot. As expected, we found plenty of obviously fake positive user reviews, and a few genuine negative ones. There are a few indicators showing these positive reviews are indeed fake.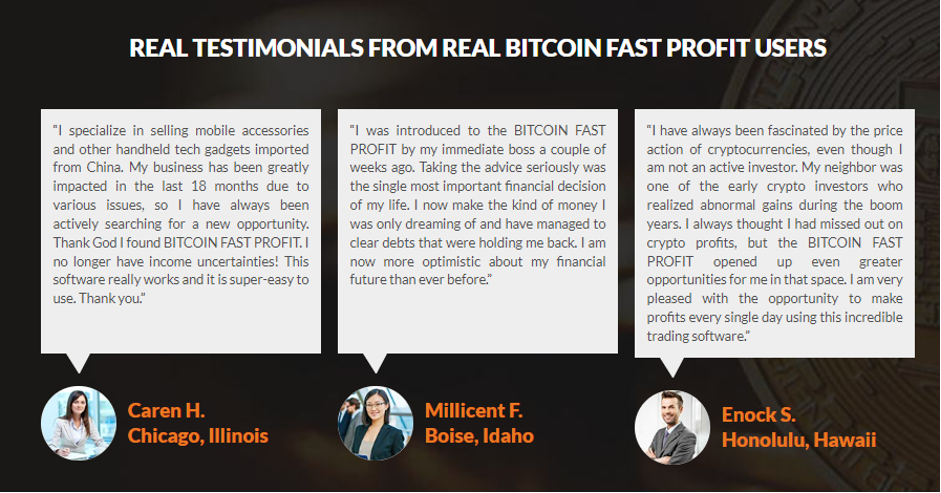 Firstly, they were all written in a similar manner, containing generalized praise, but little to no details or nuance. Authentic reviews give the impression that someone has actually used the product; these reviews could practically apply to any product if we just change the name. More importantly, we can see that posters of each and every positive review on Trustpilot were invited by the 'developers' of Bitcoin Fast Profit to leave a review there.
As for the negative reviews, they're all one-star reviews, with no exception. Unsurprisingly, they claim they couldn't use Bitcoin Fast Profit and were scammed.
2) Highly Suspicious Official Website
But, user reviews aren't sufficient proof. Next, we visited the Bitcoin Fast Profit official website. As the Bitcoin Fast Profit review on the specialized website, ScammerWatch, tells us, it is quite common for this kind of scam to fill its website with pointless information that doesn't have much to do with the actual trading bot.
In this case, there's a lot of talk about cryptocurrency and Bitcoin in general, but little information about Bitcoin Fast Profit itself. Allegedly, it's supposed to make almost $1000 for users in a single day. However, not even the best trading bots, such as Cryptohopper and Trailty, are anywhere near that figure, let alone being able to singlehandedly earn the users that kind of money. This is rather fishy.
The same goes for user testimonials on the Bitcoin Fast Profit website. Using Google Lens, we find the same images on the web, but the associated people have different names. Obviously fake.
3) Additional Red Flags
We now have a strong case against Bitcoin Fast Profit, but here are some additional pieces of evidence that put the nail in this scam's coffin:
No tangible information about the product's security. Of course, with your money on the line, you'd surely be interested about whether hackers could easily snatch your investment. Allegedly, Bitcoin Fast Profit has cutting-edge security measures in place, but what those protocols exactly are – they don't say.
A suspicious lack of features. Legitimate trading bots provide all kinds of trading options that help users to optimize and expand their trading processes. On the other hand, Bitcoin Fast Profit only offers a demo trading account and live trading sessions. Again, we can read on Scammer Watch that this is a common telltale sign of a fraudulent trading bot.
There's no Bitcoin Fast Profit mobile app on Google's or Apple's stores. Needless to say, being able to trade even at a time when you don't have access to a PC is quite important. We wonder why neither Google nor Apple got involved with Bitcoin Fast Profit?
There's a lack of contact options. You can only reach the scammers through a contact form, while there's no mention of any phone number or e-mail address. The company's physical address is provided, but it is located in a business center in the UK, where there's no mention of such a company. We'll stop here, as this is more than enough evidence. As demonstrated, Bitcoin Fast Profit is a scam – steer clear of it.