Expert circuit designers know that having the right software tools is essential for creating high-quality circuit diagrams. With so many circuit diagram software options available, knowing which one to choose can be problematic. With that in mind, our experts have compiled a list of the five best circuit diagram software tools, with expert commentary to help you make an informed decision.
Our experts agree that the top circuit diagram software tools offer a range of features that make circuit design more efficient and effective. One expert notes that "these software tools are optimized for speed and accuracy, with features like simulation and testing that help you catch errors before they become problems." Another expert highlights the importance of software that offers "flexibility in input and output formats, so you can work with a range of file types." Our software picks offer these features and more, making them the ideal choice for circuit designers.
From free software to premium options, our top 5 circuit diagram software picks have something for everyone. With powerful design capabilities, user-friendly interfaces, and a range of features to help you create accurate circuit diagrams, you can't go wrong with our expert-approved picks.
EdrawMax
As technology advances, the demand for high-quality circuit diagrams continues to grow. That's where EdrawMax comes in. With its easy-to-use interface and range of features, EdrawMax is the perfect choice for creating accurate, professional-looking circuit diagrams.
In EdrawMax, you will find how easy it is to create different circuit diagram types. In the dashboard, you will find ready-made templates for basic electrical, circuits & logic, industrial control, and system diagrams. What is more amazing about these pre-made templates is their customization feature! From changing the size to updating the color to modifying the look, all the available templates and circuit diagram components are 100% customizable.
If this is going to be your first time working on complex circuit diagrams, you can never go wrong with EdrawMax. The tool not only offers remote collaboration (you can create different teams for different projects) but also comes with an abundance of online resources that would help you create any type of circuit diagram.
Whether you are a beginner, student, engineer, or hobbyist, EdrawMax has everything you need to create accurate, professional-looking circuit diagrams.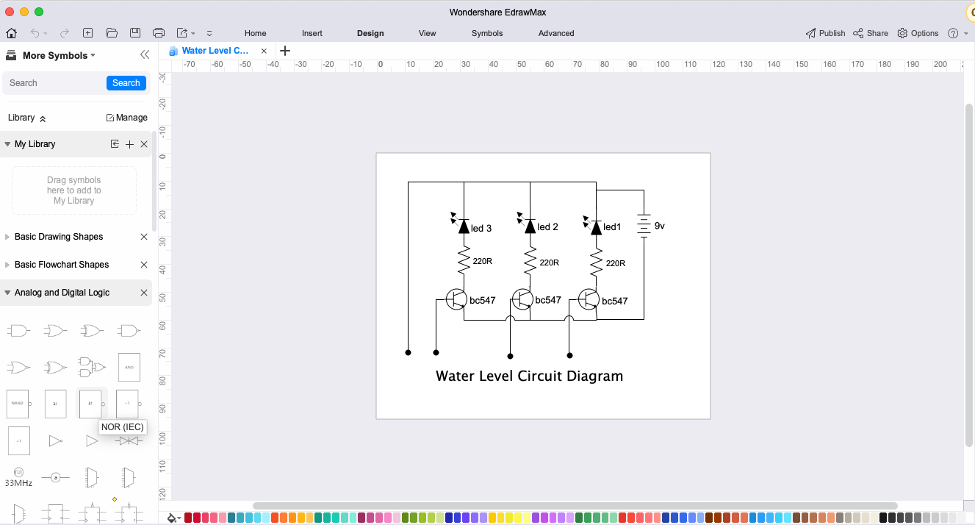 Features
Supports integration with other software.
Provides presentation mode to present circuit diagrams professionally.
Comes with pre-made electrical templates, components, and automated layout.
Multiple language support for global use.
Provides continuous software updates for improvements and new features.
Limitations
Combining templates may be difficult for some users.
The steep learning curve for beginners with no previous diagramming experience.
Pricing:
Free Plan Available
Subscription Plan: $99/year
Lifetime Plan: $198/year
Website: https://edrawmax.wondershare.com/
Verdict: With its range of features and ease of use, it's no wonder that EdrawMax has become one of the most popular circuit diagram software options on the market today.
Altium
Altium is a popular electronics design software that offers a comprehensive suite of tools for creating high-quality printed circuit boards (PCBs). According to market research, Altium has gained significant popularity among electronics engineers and designers, with a reported user base of over 100,000.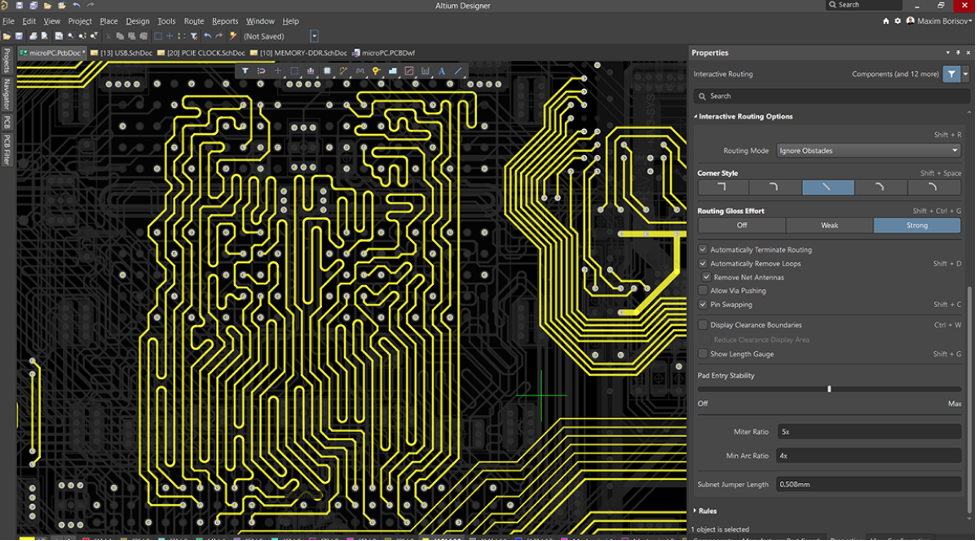 One of the key features of Altium is its ability to provide users with a wide range of PCB dimensions, allowing for precise and accurate design work. Additionally, the software comes equipped with an extensive library of thousands of components, including ICs, resistors, capacitors, and more. This library is regularly updated, ensuring users can access the latest components and modern technologies.
Features
Import and export of industry-standard CAD formats
Comprehensive design documentation and reports
Integrated libraries with over 350,000 components
Collaboration tools for easily sharing designs with colleagues and the community.
Limitations
Limited design rule checks in the free version.
Limited collaboration options for remote teams.
High resource utilization leads to slower computer performance.
Limited integration options with other software tools.
Pricing:
Term-Based License: $4,650/year
Perpetual License: Starts at $10,000
Website: https://www.altium.com/altium-designer
Verdict: Altium offers a powerful solution for electronic design automation. However, the free version has limited design rule checks and collaboration options, and the software's high resource utilization can lead to slower computer performance.
CircuitMaker
CircuitMaker is a popular software for creating electronic circuit diagrams and designs, which is a great choice for hobbyists, students, and enthusiasts on a budget. This circuit maker tool is completely free to use and provides unlimited access to all its features, making it a good and reliable option for beginners in the electronics field.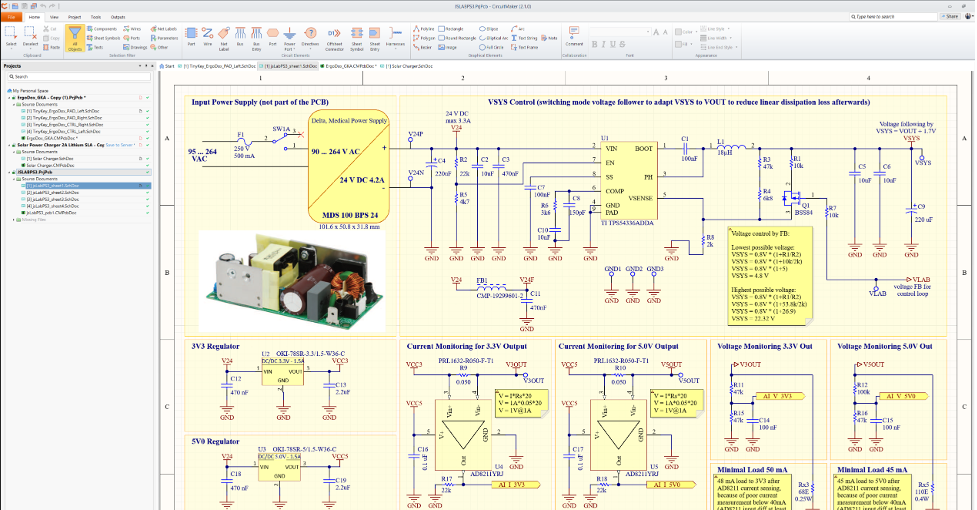 One of the key advantages of CircuitMaker is its massive component library, which includes a wide variety of discrete and electromechanical devices. This makes it easy to identify the right components for your project and ensures that you have everything you need to build high-quality circuits.
In addition to its powerful design tools, CircuitMaker includes a simulation engine that allows you to test your designs before building them. This helps ensure that your circuits will work as intended and save you time and money in the long run.
Overall, if you're looking for a free circuit maker that provides a powerful set of design tools and features, CircuitMaker is definitely worth checking out. With its easy-to-use interface, comprehensive component library, and simulation capabilities, it's a great choice for beginners and advanced users.
Features
Ability to customize and create new components.
Integrated version control for easy project management.
Extensive design rule checking for error-free designs.
Multi-sheet schematic editor for larger designs.
Limitations
Not available for macOS and Linux; only available for Windows users.
CircuitMaker is a complex tool that may require a steep learning curve for beginners.
The user interface of CircuitMaker can be complicated and overwhelming.
Pricing: Free
Website: https://circuitmaker.com/
Verdict: CircuitMaker provides a powerful toolset for designing electronic circuits, with a range of features that allow for customization and error-free designs. However, it may not be the best choice for macOS or Linux users.
KiCad
KiCad is a free, open-source electronic design automation software suite that provides a complete set of tools for designing printed circuit boards (PCBs). With its comprehensive features and user-friendly interface, KiCad has become a popular choice for everyone.
One of the standout features of KiCad is its integrated environment for schematic capture, PCB layout, and manufacturing file viewing. This makes it easy to design a circuit from start to finish without getting dependent on multiple software programs or switching between different interfaces.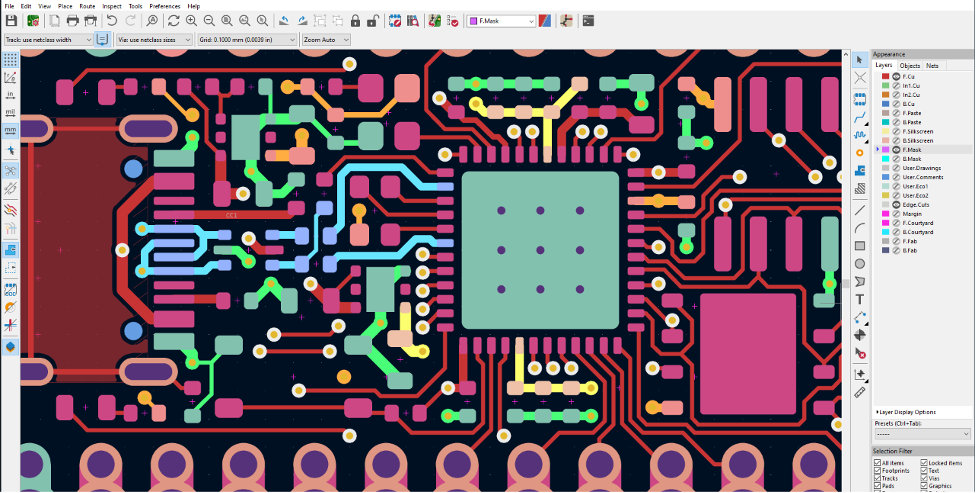 In addition to its powerful design tools, KiCad also offers ngspice-provided SPICE simulation and engineering calculation features, allowing users to test and analyze their designs before they are built. KiCad also includes tools to create a bill of materials, artwork, Gerber files, and 3D models of the PCB and its components, making it a complete solution for the entire design process.
Overall, KiCad's extensive set of features and free, open-source nature has made it one of the most used circuit makers.
Features
Multiple language support, including English, French, Spanish, Chinese, and more.
Community-contributed libraries with over 90,000 components available.
Support for multiple output formats, including PDF and SVG.
Easy integration with other EDA tools using Netlist and ODB++ formats.
Limitations
No automatic backup of files.
The UI can be overwhelming for new users.
Documentation can be difficult to navigate and find relevant information.
The installation process can be complicated, especially for those unfamiliar with installing open-source software.
Pricing: Free
Website: https://www.kicad.org/
Verdict: With its powerful design tools and comprehensive suite of features, KiCad is a versatile and reliable tool for designing printed circuit boards.
Lucidchart
Lucidchart is a cloud-based diagramming software that offers users an intuitive platform for creating and sharing circuit diagrams. As quoted by its CEO, Karl Sun, "Lucidchart is the smart choice for creating, sharing, and collaborating on any diagram." With an impressive library of industry-standard symbols and the ability to import files from popular diagramming software such as Visio, Gliffy, draw.io, and OmniGraffle, Lucidchart is a powerful tool for creating accurate and detailed circuit diagrams.
One of the key features of Lucidchart is its ease of use. With drag-and-drop functionality and quick formatting tools for lines and arrows, creating professional-looking diagrams has never been easier. The software also offers thousands of circuit diagram templates to get one started quickly, allowing registered or licensed users to customize them to fit their specific needs. Moreover, Lucidchart is an affordable solution, making it an attractive option for individuals and businesses of all sizes.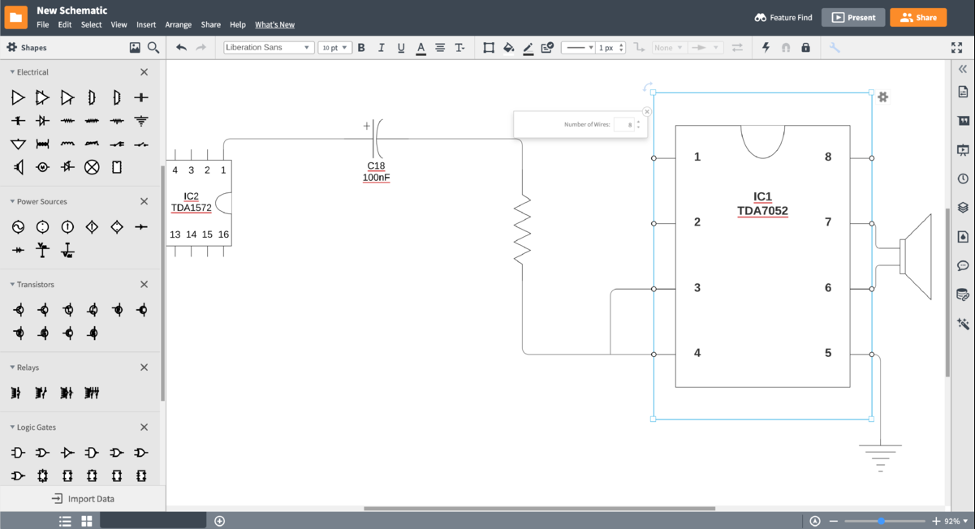 In addition to its extensive features, Lucidchart integrates seamlessly with various third-party platforms, including Salesforce, AWS, Slack, Okta, and Atlassian. This allows users to streamline their workflows and collaborate more efficiently with colleagues and team members.
Features
It can be accessible from any device with an internet connection
Revision history and version control
Seamless integration with Microsoft 365 and Google Workspace
Advanced data linking and import/export options
Limitations
No advanced color customization in the free version
Limited collaboration options in the free version
Limited version control in the free version
No direct support for coding or programming languages.
Pricing:
Free Plan
Individual Plan: $7.95 per month
Team Plan: $9.00/user
Website: https://lucid.app
Verdict: With Lucidchart's comprehensive suite of features, user-friendly interface, and impressive integrations, it is no surprise that it has gained a significant market share in the diagramming software industry.
Conclusion
Throughout this article, we have discussed four popular circuit diagram software, but EdrawMax stands out with its unique features and capabilities. With a vast library of 25,000 symbols and 280+ diagram types, EdrawMax offers its users a diverse range of options, making it easy for them to create professional-level diagrams.
Furthermore, EdrawMax provides users with an extensive template community, automated formatting, and MS Visio compatibility, which sets it apart from the competition. The software also offers file encryption, CSV data upload, and free cloud storage, providing users a secure way to store and share their work.