The hardest thing for book collectors to do is to let one of their collections go. It can be anything from an instruction guide to a novel. The ideal thing to do is to sort them out. You can put them in a place where you can easily retrieve and read them. If you have old books then instead of pawning them off or throwing them away, you can donate them.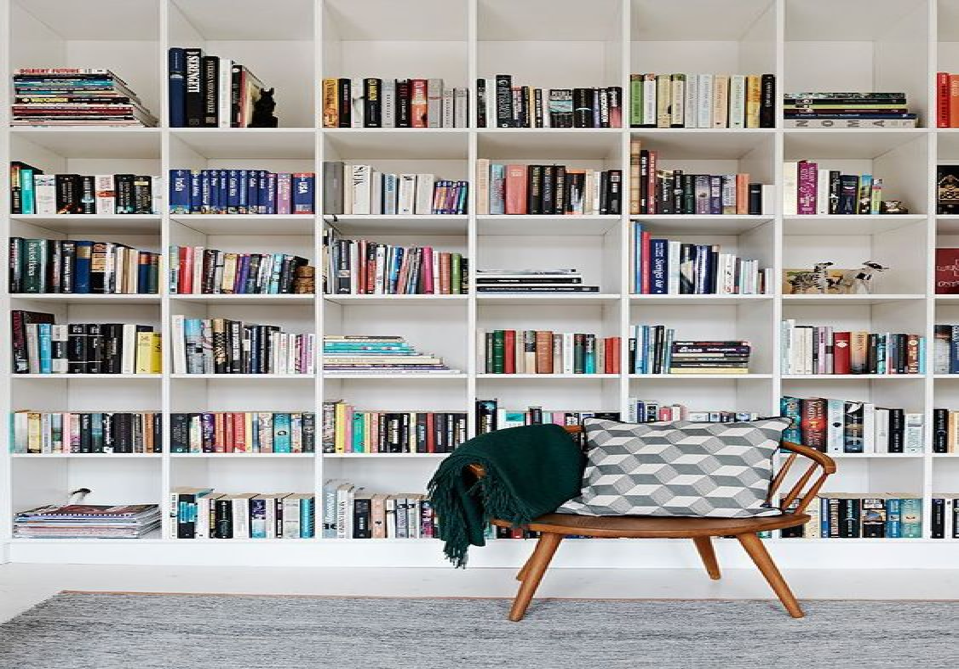 If you want to utilize the books you have, then you can set up a library at home. It will require a significant investment, not to mention the logistics of it all. However, once you commit to it, then creating a reading space at home is not a difficult task.
There are some things you will need while setting up a library back home. Here is a list of some things you can get:
Books:
The first step in building a library is to acquire books. As the books are the main reason you are making a library at home. You will have to organize the books in alphabetical order. It can be the name of the author, genre, or book itself.
Acquiring books will require both your time and money. You will have to contact different bookstores and libraries. They may be able to accommodate you while some may offer discounts on bulk sales. The libraries can also provide with some old editions for free. Furthermore, you can ask your associates and family for any reading material that they can spare.
You will have to decide on what sort of books you plan on keeping in the library. You can ask people online for book donations. Create a social media page where you might be able to receive books from individuals from different parts of the world.
Book Shelves:
The library requires a bookshelf. If you want to make a more significant collection, you will need shelves to put in your books. The shelves will give you ample storage.  It is such a common sight in both public and private libraries. Such is its association that a library without a shelf is a very exceptional spectacle.
You will need to customize the shelves according to your requirement. There are standard sizes which you can find in the furniture stores. However, they may not always meet your needs.
Gadgets:
In our world today, gadgets play an important role even in libraries. You can display your laptop on your desk and put your mobile phone on a car phone holder for easy reach. This will also keep you from misplacing them.
Having internet access and your gadgets will allow you to keep in touch with the outside world. This will also keep you in contact with your loved ones and friends. Moreover, you can search for other books and other reading materials that you may want to add to your collection. You can also check e-books that you can peacefully read inside your library.
Broadband Internet:
The library requires a good internet connection with high speed. If you plan on keeping a video library, then you can store it with either in the form of a CD or on a cloud. There are online streaming services that you can avail. However, it requires a good speed to prevent continuous buffering when the video is playing.
You can also use your library for video calls or making educational vlogs. If the library has a proper internet connection, then constructing well-organized a request will be difficult for you.
Chairs and Tables:
You will need a lot of chairs and desks to sit on while you read. It will help you keep all your research material and book within your range when you are reading. The chairs will allow more people to be able to use the library at the same time. A table can also help you keep your laptop or projector.
You can keep as a sofa or comfy chairs if you so desire. However, all of this will depend upon the space of the room where you will set up the library. Moreover, it's not necessary that you get chairs and tables. You can also put down cushions and matters to sit down if you are low in budget. However, you will not be able to have a typical setting of a library.
Proper Lighting:
If you plan on converting one of the rooms in your house into a library, you will have to consider installing bright lights. Since reading requires proper bright lights, so it is essential that you make the necessary arrangements. You can call in an electrician have him set up some additional junctions for lamps and LED lights. An overhead lamp will help focus the light on your reading material.
You can also make sure that you choose the room with ample sunlight. Natural source of light is perfect since the eyes can easily adjust to it. Moreover, they will help you save your utility bill.
If you fail to use the right kind of lights, then the low lighting will put a strain on your eyes. It can result in headaches and lowering of eyesight.
Catalog:
You can create a directory which will help you to find the books easily without any hassle. The record will help you organize your collection. It will also make your library appear neat and well organized.
Conclusion:
The library that you set at home will be a real treasure for those who love reading. It will not only be a healthy hobby, but it will also allow you to read whenever you can. Moreover, you can provide a safe space for your family and kids to learn new things and explore the world of academics.