Fancy decorating your lovely backyard yet still bewildered by too many ideas after scrolling down for hours? Want to make your yard a family place yet find it hard to attend to everyone? How about this idea that saves you cost, tax yet brings you recreational fun and even health?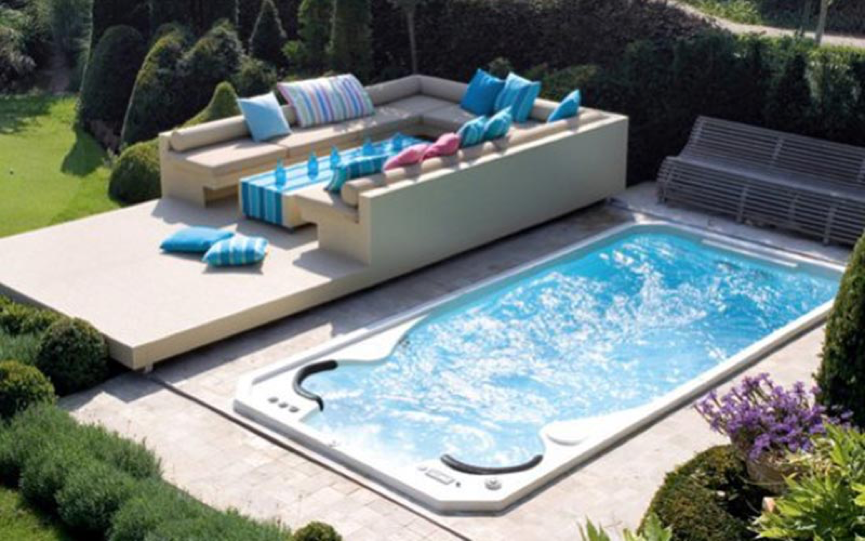 What is a swim spa? It looks like a tub, more or less with some sense of a Jacuzzi. A large swim spa even resembles a spa swimming pool. In fact, these small swimming pools are equipped with machines that you can swim in with currents generated. With a swim spa, you can work out without leaving home.
What makes it a good backyard idea? You can enjoy the benefits of an in-ground swimming pool – because the machine produces currents to enable you to swim while saving the burden of building and maintaining it. You don't have to argue to take the room from gardening for your pool. You don't have to bear with the toiling surface scrubbing and plumbing system cleansing.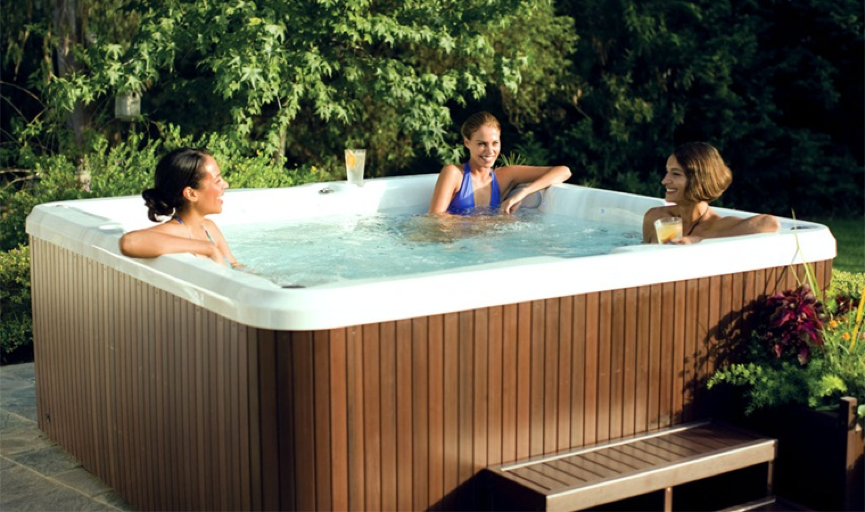 You can enjoy the benefits that a swimming pool can't promise you! You can't bring an in-ground swimming pool as you go but you can with a swim spa. With special functions installed, a swim spa qualifies as your fitness training means, but also aquatic gym workouts and therapy means.
Beyond the recreational and health benefits, a swim spa can also save you tax. As it is not a permanent fixture, it is not considered as adding more value to your property, thus your property tax rate does not increase.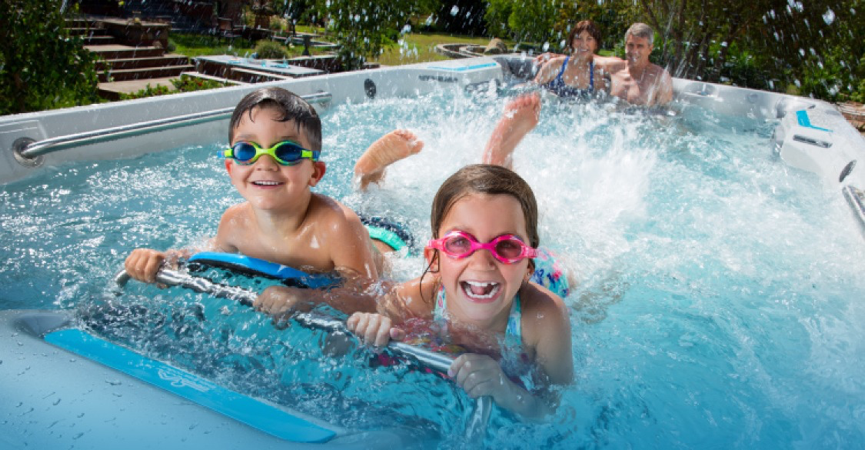 So…what to consider when you want a swim spa?
#1 How many persons at most do you expect to share the swim spa at the same time? – To decide the number of seats of your swim spa.
#2 What exercises do you want the swim spa for? Only swimming? Any need for underwater treadmills or aqua-bikes? – To decide whether you want one designed purely for exercise, or a combined one also attending to recreational needs, and your expectation of particular functions;
#3 How much intended room for the swim spa? – To decide the size of the swim spa; well, of course, you can customize one;
#4 What chemicals does the swim spa use to purify water? – Ozonator or chlorine?
#5 What are the specific clauses regarding the warranty of the swim spa's components? – Know more about warranty clauses regarding the structure, pumps, and heaters.
#6 What is shell material? Acrylic is the best choice because for the time being because it withstands weather, sunlight with tough strength against impact. Fiberglass's performance varies depending on the quality. Well-constructed one is almost equivalent to acrylic but danger always lurks behind cheaper ones.

Take this swim spa as an example. The swim spa Covering about 140 square-feet brings you and your family the enjoyment of both aquatic fitness workouts and leisure. Three jets all with its individual 3HP pump are sturdy enough for you to swim. For resistance-based exercises like rowing, an additional swim tether (subject to order) is available for advanced users. When it comes to leisure moments, up to six family members can chat or catch up with each other by the "lounge" feature. What makes this model stands out is the flexible installation alternatives: from in-ground, above-ground, to even inside an existing pool.
Now that you decide to make your yard a place for the whole family to enjoy and spend great moments together, why not try the practical, wellness beneficial and convenient swim spa?